Of the 47 prefectures in Japan, Aomori is the second-most northern after Hokkaido. Located in the Tohoku Region, it gets a lot of snow in winter. Actually, the entire prefecture is designated as a Heavy Snow Area (or "Snow Country") by the Japanese government, with some parts designated as a Special Heavy Snow Area.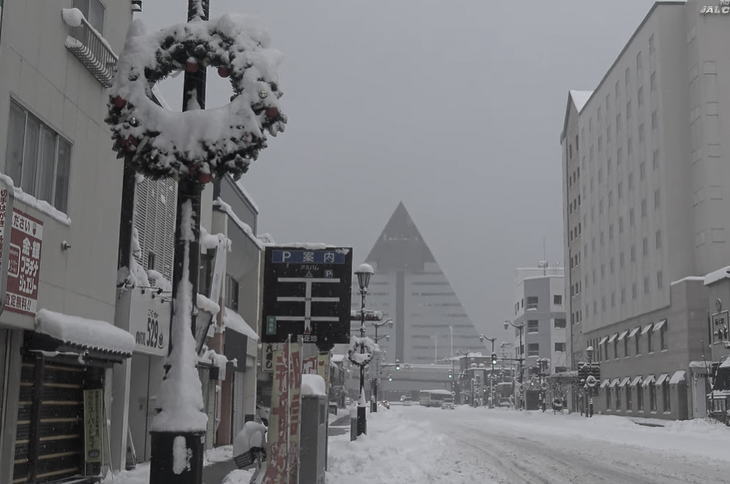 The port of Aomori is ensconced comfortably in Mutsu Bay. Being surrounded by two large peninsulas, the port is not affected by the hash waves. So, cruise ships can enjoy a calm and peaceful stay there. There are two piers in the port, which can accept massive international cruise ships. While most of those ships come to dock at the Shin Chuo Pier ("New Central Pier"), some of them dock at the Okidate Pier.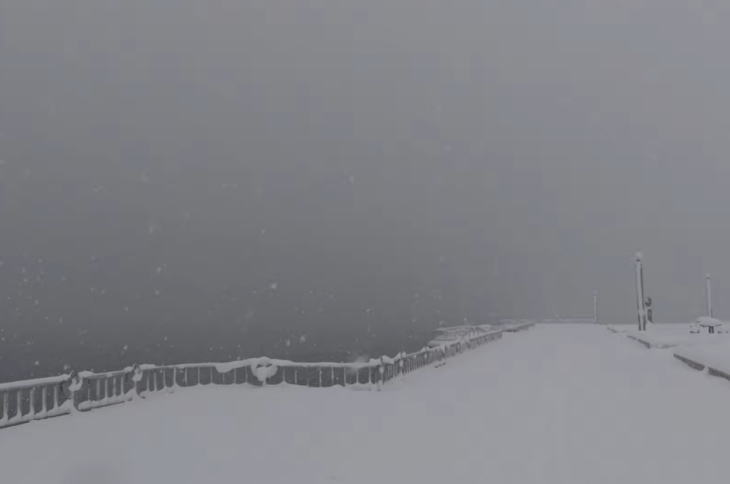 What we need to note here is that these two piers are about 2.5 km apart. So, if you meet someone who is going to disembark from a cruise ship, please make sure beforehand which pier that ship is scheduled to use. Otherwise, you could end up all alone at the pier. In 2019, of the 18 international cruise ships that visited Aomori Port, 5 used the Okidate Pier.
Destinations within Walking Distance from the Pier
If your ship doesn't stay long at the port, your free time on the shore might be limited and you can't visit far destinations. But, even if you don't go far, you can enjoy a lot of things in the waterfront area. Furthermore, the port of Aomori is very close to the downtown area of Aomori City, which is the capital of Aomori Prefecture. So, there are a lot of interesting attractions near the port.
ASPM (pronounced "Ah! Spam!") is the Aomori Prefecture Tourist Center run by the Aomori Sightseeing Association. Its triangular exterior represents "A" for Aomori. This facility has one of the largest souvenir shops in the prefecture, as well as one of Japan's largest 3D panorama screen theaters where you can enjoy Aomori's beautiful four seasons and lively festivals. Also, the view from its 13th floor observatory is superb.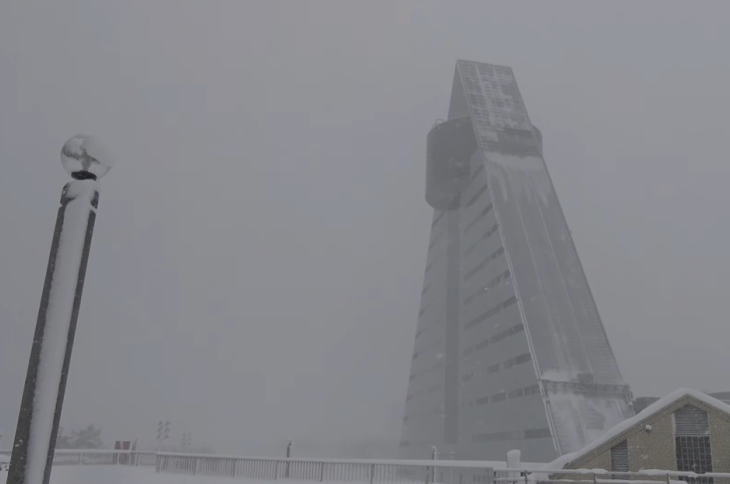 The Aomori Bay Bridge is a modern bridge spanning the port of Aomori. If you take a closer look at the bridge, you will find that Aomori's As are also used in the design of its bridge piers and cables. You can climb up this bridge using the spiral stairway to enjoy the beautiful view of Mutsu Bay. The bridge is lit up beautifully at night.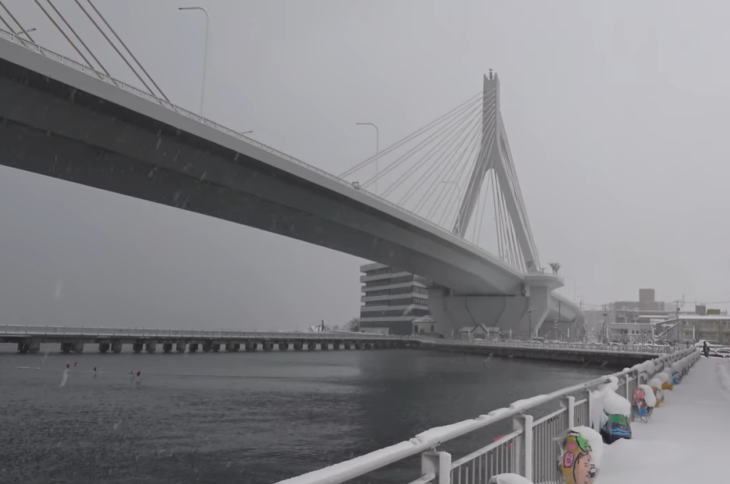 The Hakkoda-maru moored at the port is a ship museum. She used to operate frequently as a means of transportation between the ports of Aomori and Hakodate in Hokkaido. She carried about 160 million passengers in total over a period of 80 years. With the completion of the Seikan Tunnel, Japan's largest sea tunnel which connects Honshu and Hokkaido, in the late 1980s, the Hakkoda-maru was retired and turned into a museum. Now, for a fee of 500 yen, you can see its various rooms inside.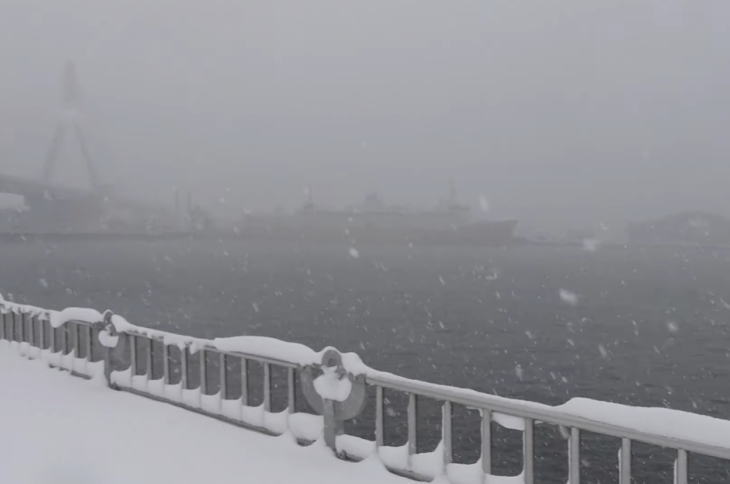 For most people in Japan, Aomori City is closely associated with the Aomori Nebuta Festival, which is held for six days in early August. In this festival, some 20 giant floats depicting historical or mythical figures parade through the city center of Aomori, accompanied by the sound of drums and flutes. And exotic-looking dancers called haneto ecstatically dance around the floats, shouting "Rassera! Rassera! Rasse! Rasse! Rassera!" This year (2022) saw the Aomori Nebuta Festival conducted for the first time in three years after a two-year hiatus due to the coronavirus.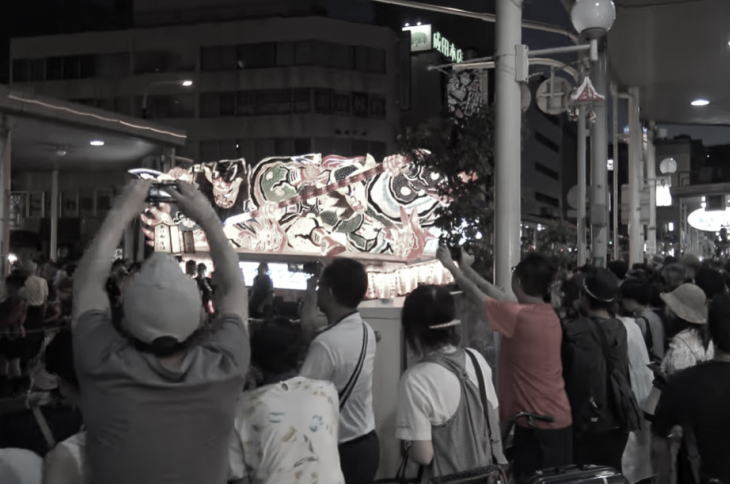 In the Nebuta Museum Wa Rasse, which is located just a few minutes walk from the Shin Chuo Pier, you can learn about and actually "experience" the Aomori Nebuta Festival all year round. Several real Nebuta floats are displayed in the museum so that you can take a close look at them. If you want to master haneto dance, there are regular haneto dance performances in the museum, and dancers usually ask spectators to join them.
If you want to know what kind of food local people in Aomori eat daily, you might want to go to a fish market. There are at least two popular fish markets near the port of Aomori. One is the AUGA fish market, which occupies the whole ground floor of the nine-storied complex called AUGA. With some 80 shops crammed together, which include a couple of restaurants, a vibrant atmosphere reigns here.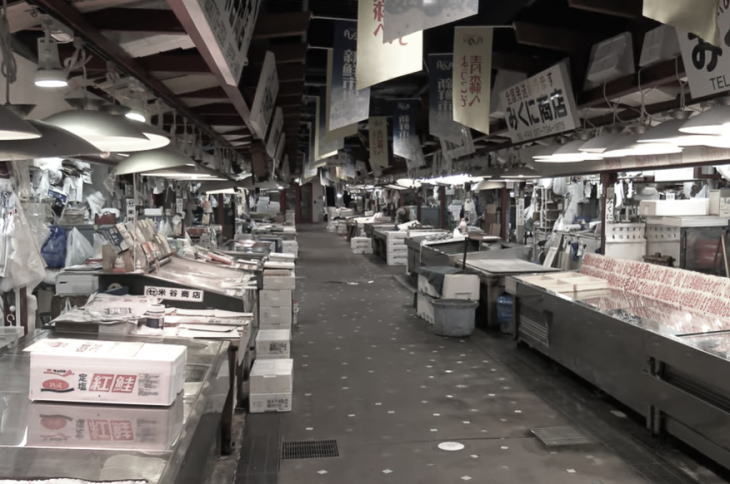 The other is the Aomori Gyosai Center, which the locals commonly call the "Furukawa Market." Their dish called the Nokke-don, a sort of kaisen-don (sliced raw seafood over boiled rice) of your own making, has become very popular recently with local people and tourists alike. So, now you sometimes need to wait in line to get a ticket for the dish.
Utou Shrine is about a13-minute walk from the Shin Chuo Pier (the international cruise terminal) in Aomori Port. This is a Shinto shrine that dates back some 1,200 years. It is believed that the city of Aomori originated from this place. Some people in Aomori visit this shrine not only to pray but also to relax, as this is a tranquil place in the city's urbanized district, with a beautiful pond where carp are swimming.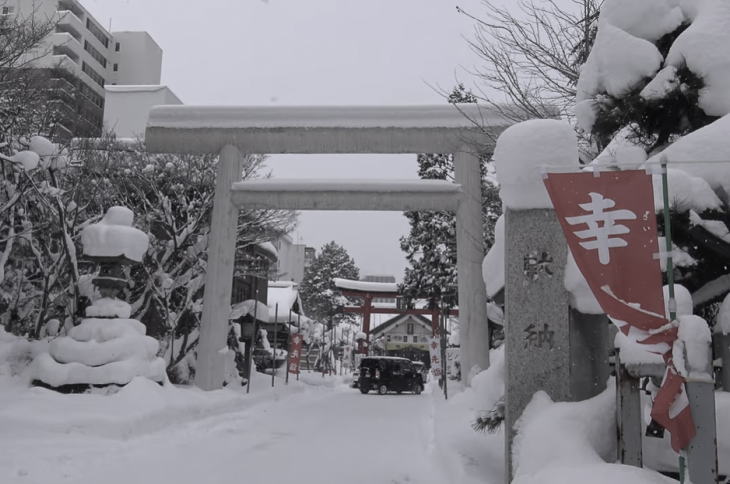 If your cruise ship is going to stay until late in the evening (or stay overnight) at the port of Aomori, some of you may be interested in visiting a local bar or izakaya (a Japanese-style pub with a variety of food on the menu). Then, you don't need to worry because the downtown area of Aomori City offers a lot of them.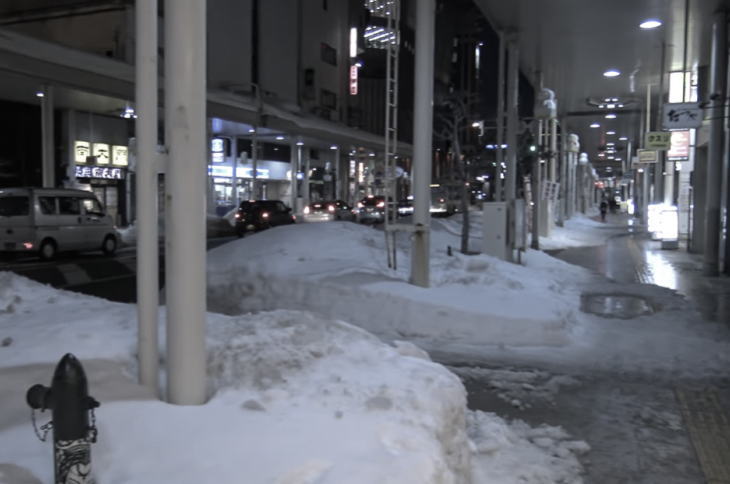 But, in case you happen to be a person who wants to explore "out-of-the-ordinary" places, strolling around the Daisan Shinkougai area could be one of the options (although we don't recommend it so strongly). It seems there are a couple of small-size bars still operating there. The words Daisan Shinkougai literally means "The Newly-developed District No.3" in Japanese. But obviously there is nothing "new" there (and don't ask where are No.1 and No.2). On the contrary, it is as if something from the past just comes and stares into our souls.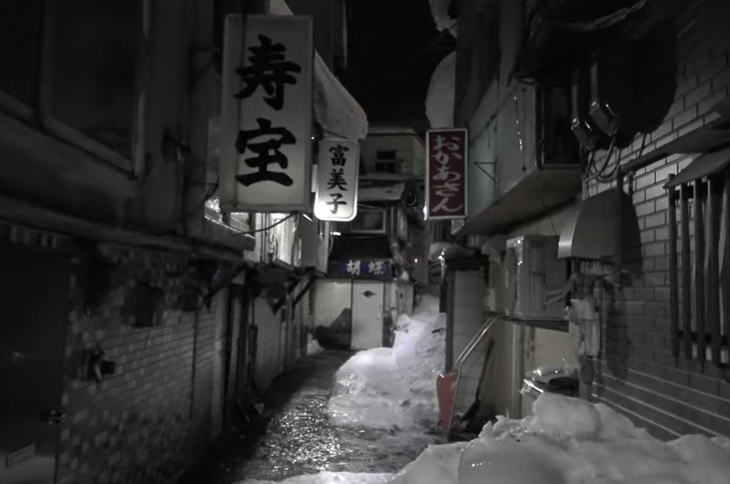 Rough Map of Aomori
The rough map below shows where popular tourist destinations in Aomori Prefecture are located in relation to Aomori Port. Each letter of the alphabet on the map corresponds to the one that appears in the subsequent sentences.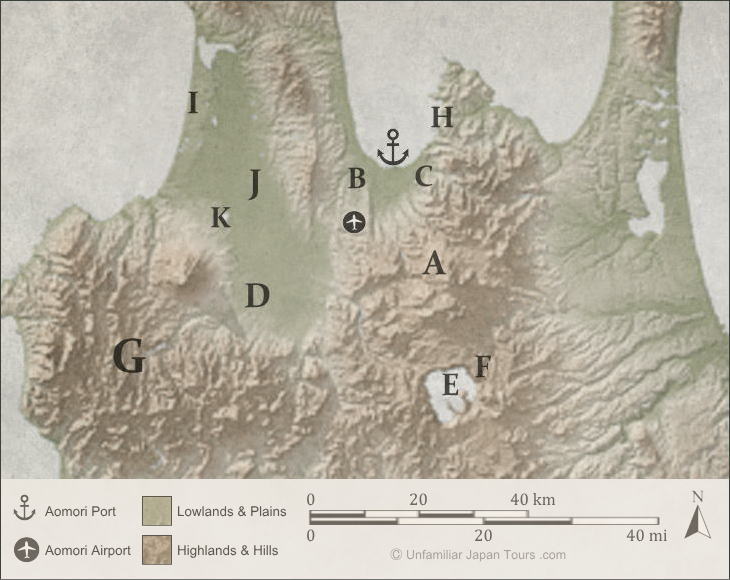 Destinations within One Hour by Car from the Port
With its 18 different peaks, the Hakkoda Mountain range is one of the symbols of Aomori City. Being part of Towada-Hachimantai National Park, it offers enjoyment of each of the four seasons, such as hiking in summer, colored-leaves viewing in autumn, and skiing and rime viewing in winter. From the port of Aomori, it takes about 40 minutes by car to reach the Hakkoda Ropeway cable car station (A), which is one of the most popular attractions in the Hakkoda area. For details, please check out this exclusive page for Hakkoda Mountains on this website.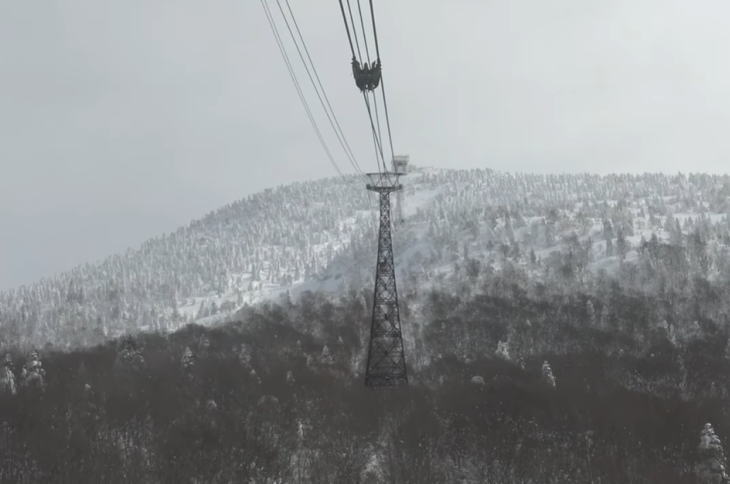 The Sannai Maruyama Site (B) is an approximately 15-minute drive southwest from Aomori Port. This is the ruins of a very large settlement during the mid Jomon Period. (The Jomon Period spanned roughly from 13,000 BCE to 900 BCE). There are a couple of impressive Jomon structures which were reconstructed based on the excavation findings. And in the museum, Jomon Jiyukan, you can see a number of artifacts excavated from the site. This archaeological site was added to the UNESCO World Heritage list in July 2021. For more details of Sannai Maruyama, please check out this Jomon Period page on this website.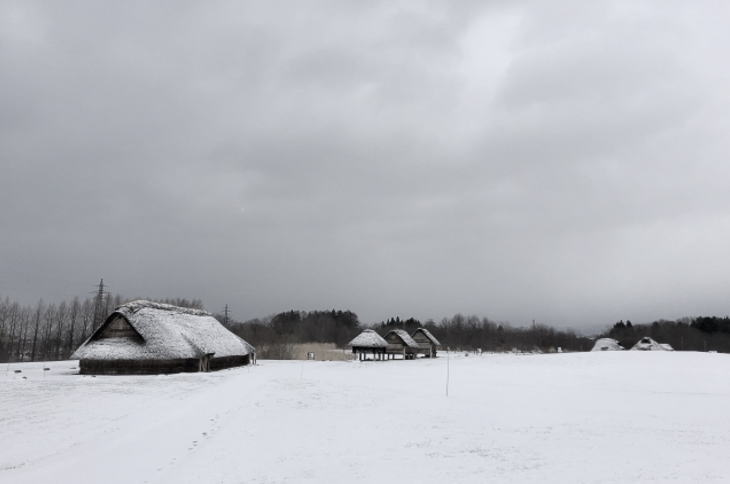 Seiryu-ji Temple (C) is about a 20-minute drive east from the port of Aomori. Located in a tranquil countryside, this Buddhist temple had been visited by some hundreds of international cruise ship passengers before the onset of the coronavirus pandemic. The temple's Great Buddha (Showa Daibutsu) is the largest bronze seated Buddha statue in Japan. With a height of 21.35 meters, it exceeds in size its more well-known counterparts in Nara and Kamakura. The temple's 39.35m five-storied pagoda is also impressive. Made of Aomori's white cedar lumber, it is the largest wooden five-storied pagoda in Eastern Japan.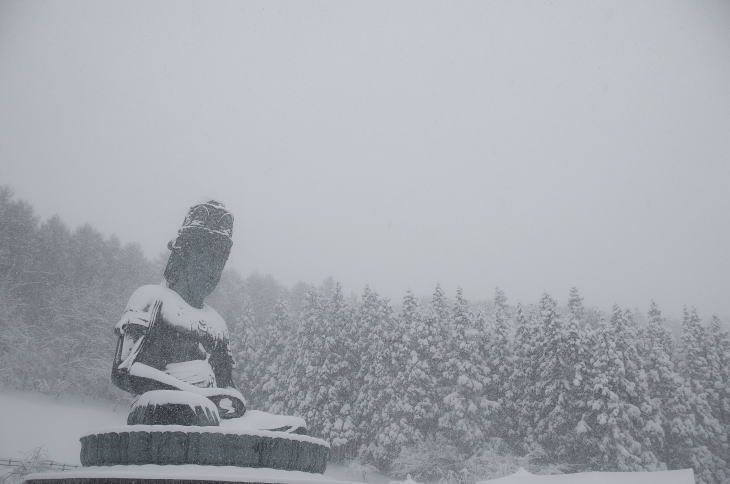 Hirosaki Castle (D) is a historically important castle in that many of its structures are not the reconstructions but the originals from the Edo Period (1603-1868). In particular, its main castle tower (tenshu) is the only existing Edo-Period castle tower in Northern Japan. From its honmaru (the castle's main area), you can see a magnificent view of Mount Iwaki, the highest mountain in Aomori Prefecture.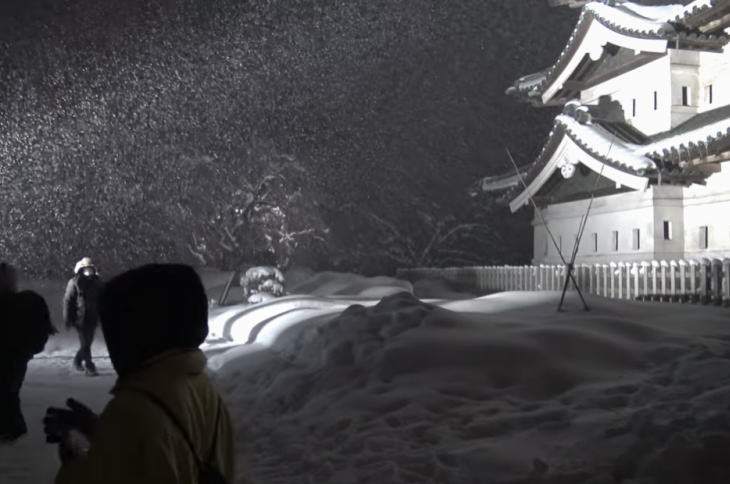 The entire castle grounds are used as a park now (Hirosaki Castle Park). There are about 2,600 cherry trees planted in the park. These cherry trees are in full blossom from the end of April through the beginning of May, during which time over a million people come to visit the castle park. Usually, it takes about one hour by car from Aomori Port to Hisosaki Castle, but during the cherry blossom season, you might need to allow for some extra time because the roads might be congested.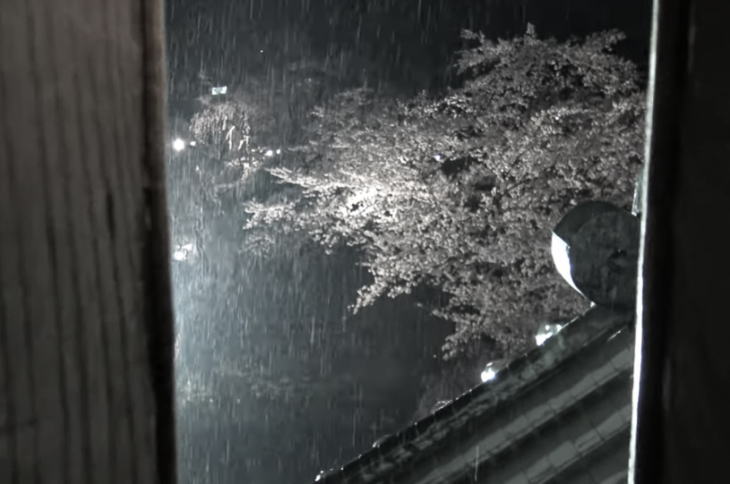 Hirosaki City has its own Hirosaki Neputa Festival, which is somewhat similar to the Aomori Nebuta Festival but different in many points. Some 80 giant floats, many of which are fan-shaped, parade through the city from August 1 through August 7, with people shouting "Yahhhh Ya Doughhhh! Yahhhh Ya Doughhhhh!" These floats are so beautiful that they are sometimes described as "moving museums."
Destinations within Two Hours by Car from the Port
The area that includes Lake Towada and Oirase Keiryu is one of the most beautiful and popular tourist destinations in Northern Japan. Along with the Hakkoda Mountains, this area is part of Towada-Hachimantai National Park. It takes about 1.5 hours by car from Aomori Port to the Yasumiya stop along Lake Towada. So, the feasibility of your visit to this area would depend on how long your cruise ship stays at the port.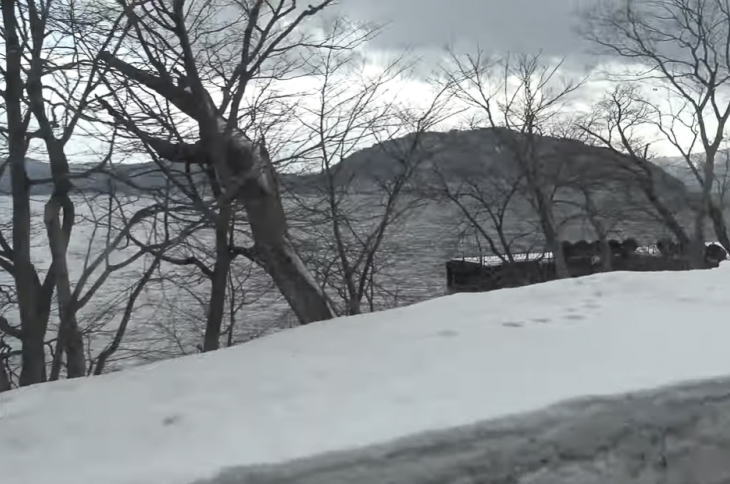 Lake Towada (E) is a large crater lake which lies at the altitude of 401 meters above sea level. With the depth of 326.8 meters (at the deepest point), it is the third deepest lake in Japan, and its deep blue surface color partly comes from this depth. The Yasumiya stop along the lake's southern shore is, with a lot of shops and restaurants, the center of the sightseeing activities at Lake Towada, and excursion boats usually arrive and depart from this point. The boats cruise around the lake for 50 minutes, and they operate during the period from mid-April to mid-November. Also, a 10-minute walk from the excursion-boat pier will take you to the iconic Otome-no-Zo statue ("The Maiden Statue"), which is the last work by a famous poet and sculptor named Kotaro Takamura.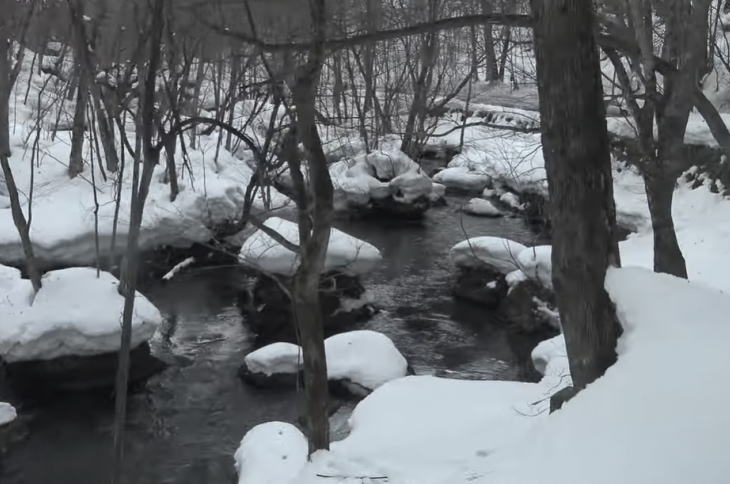 The Oirase River drains Lake Towada and exits into the Pacific Ocean. The upper reaches of the river, which spans about 14km, is called Oirase Keiryu (F), or Oirase Mountain Stream. This area is designated as a Special Scenic Place as well as a national Natural Treasure. Very clear water is flowing in the stream, and there are a number of interesting spots (features) along the stream, such as Ashura Rapid, Choshi Falls, and Kumoi Falls. Some people try to hike the entire 14km trail while others visit a couple of these famous features only, using a taxi, rental car, or bus.
Shirakami Sanchi (G), or Shirakami Mountains, is a vast mountainous area in the southwest part of Aomori Prefecture. (A part of Shirakami's southern area belongs to Akita Prefecture.) Covered with the primitive forest of buna (Japanese Siebold's beech), this area has long avoided human exploitation. In 1993, Sakami Sanchi became one of the first UNESO Natural World Heritage sites in Japan. Despite the distance from the port of Aomori (about a 90- to 120-minute drive), a lot of cruise ship passengers came to visit this area before the coronavirus pandemic.
Other Destinations
With a history of more than 1,200 years, Asamushi Onsen (H), which is a 25-minute drive from the pier, is one of the most popular and prestigious hot spring resorts in Northern Japan. Even amidst the coronavirus pandemic, some nine onsen ryokan (inns with a hot spring facility) still operate as of September 2022, and some of them offer a "day-visit spa," which doesn't require overnight stays. The free ashiyu (hot-spring footbath) service in front of JR Asamushi Station is popular with tourists.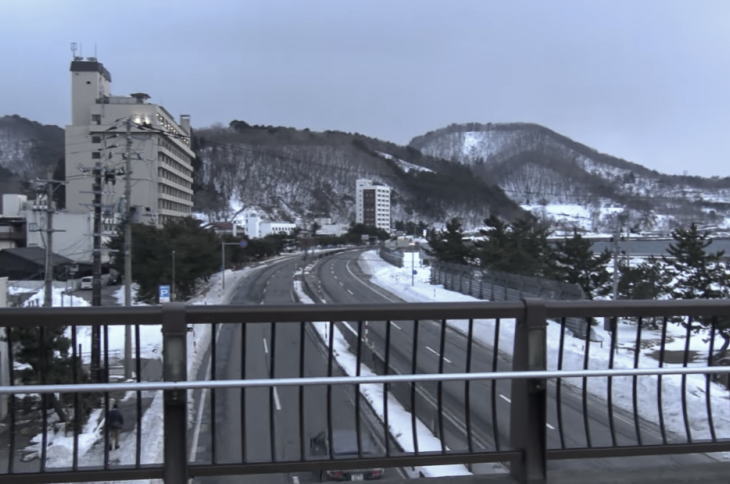 Takayama Inari Shrine (I), which is about a 65-minute drive from the pier, is a Shinto shrine situated just 500 meters from the Sea of Japan. The kami (Shinto deities) enshrined in this shrine are believed to bring people a good harvest, marine safety, and business prosperity. This place is sometimes described as "another-worldly," with its exotic path of torii gates, which reminds us of that famous shrine in Fushimi, Kyoto.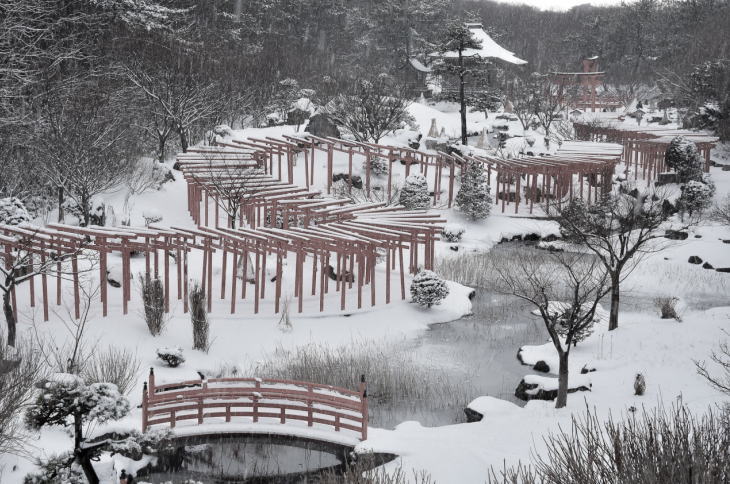 As with the cities of Aomori and Hirosaki, Goshogawara City in Western Aomori has its own unique festival called the Goshogawara Tachineputa Festival. Three giant floats at a height of more than 20 meters grandly parade through the city to the sound of drums and flutes, along with dancers calling out "Yatte Mar-rei! Yatte Mar-rei!" ("Go get'em! Go get'em!"). At the Tachineputa Museum (J) in Goshogawara City (about a 50-minute drive from the pier), you can enjoy this lively festival all year round.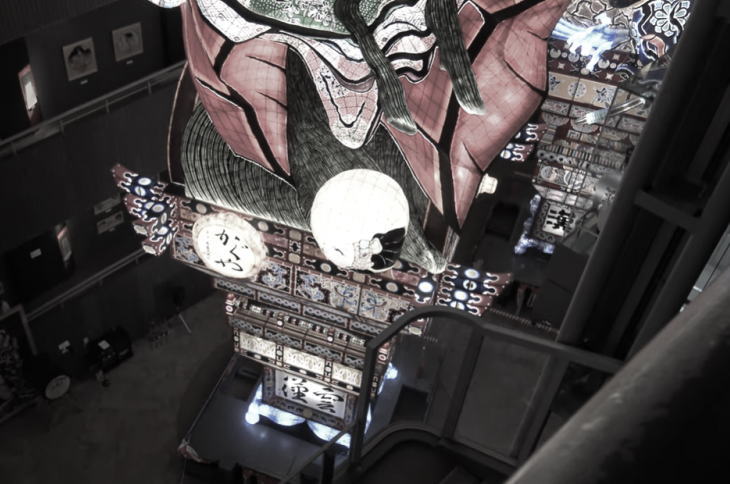 Since its completion in 1994, Tsuru-No-Mai Bridge (K) has attracted a lot of visitors. Spanning 300 meters, it is the longest triple arched wooden bridge in Japan. The bridge is a photogenic spot with Mount Iwaki seen clearly in the background. Situated in Tsuruta Town in Western Aomori, it takes about one hour by car from Aomori Port to reach this place.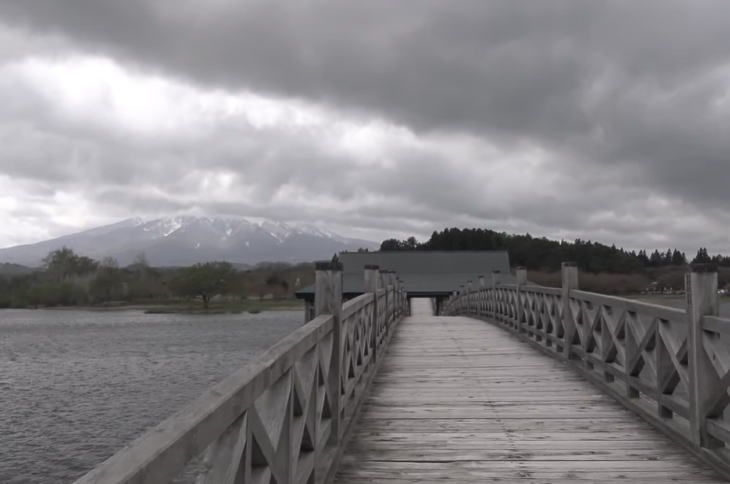 Location of Shin Chuo Pier in Aomori Port (English Map)
In April 2019, the International Cruise Terminal was completed at the Shin Chuo Pier in Aomori Port. Since then, CIQ procedure has become much simpler for international travelers. From the pier, it is a 5-minute drive to JR Aomori Station and about a 30-minute drive to Aomori Airport.
Other Photos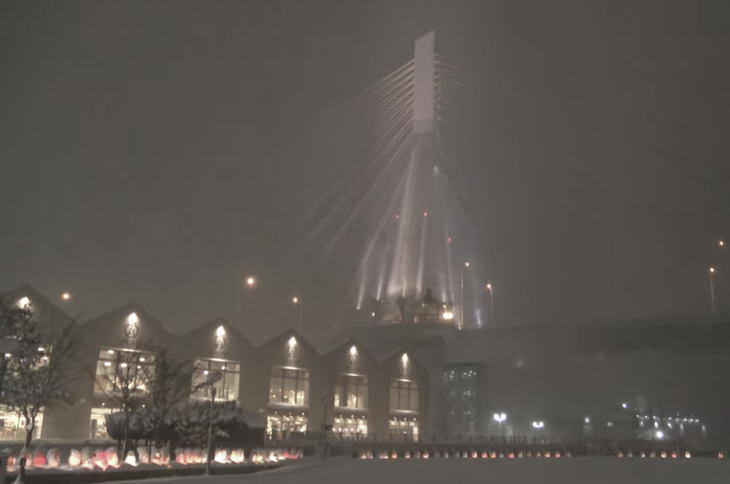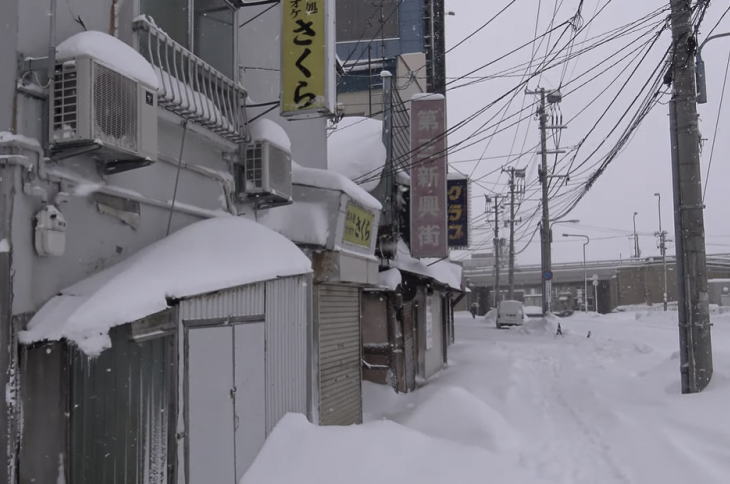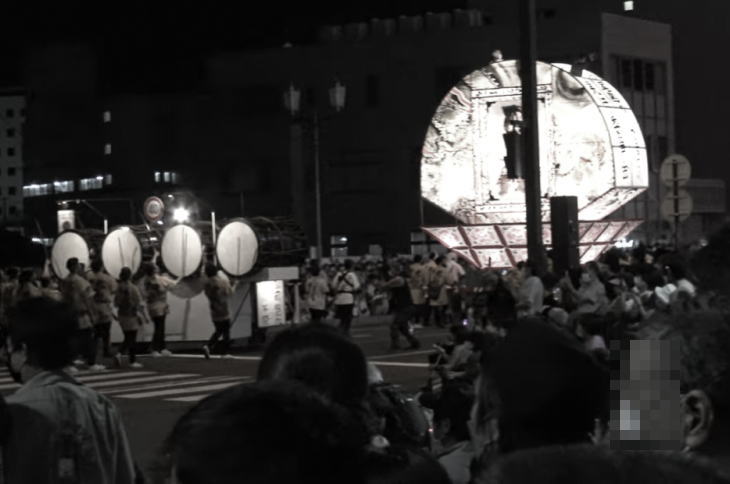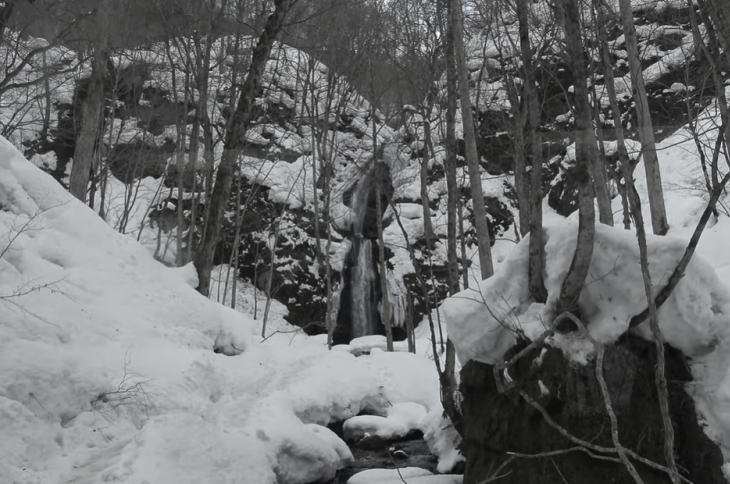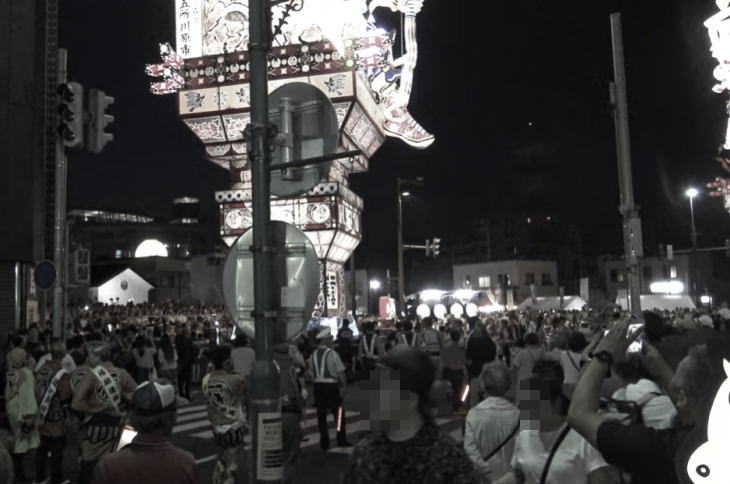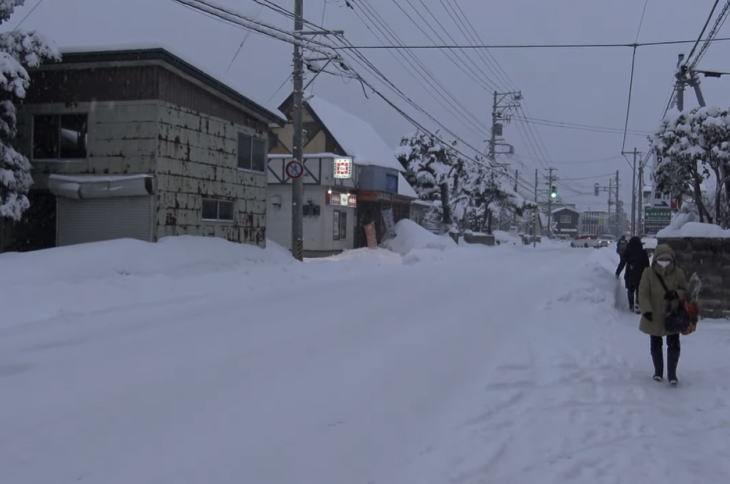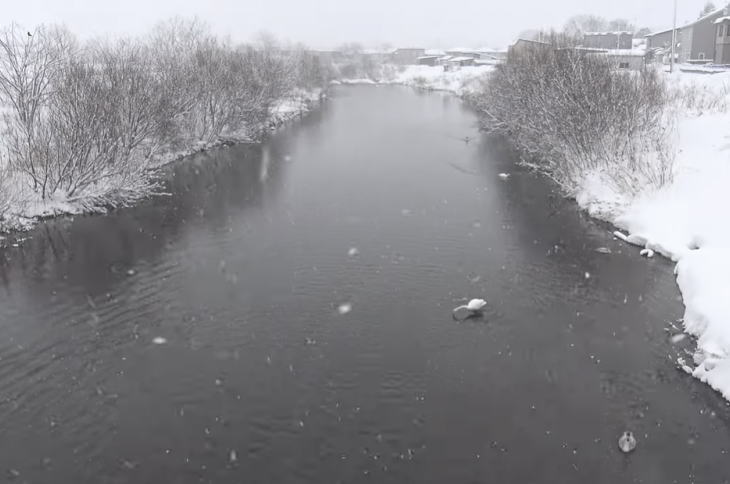 Conclusion
The conclusion is that we'd like you to enjoy your visit to Aomori. Other than the places introduced here, there are a lot of interesting destinations in Aomori. Furthermore, people in Aomori are very kind. They can be a little taciturn, but they know how to endure the long and cold winter months. Enjoy!
Photographs: taken at various locations in Aomori Prefecture,
by T. Terada, unless otherwise noted.