Outline of Gujo Hachiman
Hachiman-cho in Gujo City, commonly called "Gujo Hachiman," is a small but fascinating area in Gifu Prefecture in the Chubu Region of Japan. It is a castle town, with Gujo Hachiman Castle sitting at the top of a hill as its symbol. And at the foot of the hill stands a statue of Yamanouchi Kazutoyo and his wise and devoted wife Chiyo. They are famous historical characters whom we can often see in samurai dramas on TV. According to recent studies, there is a reason to believe Chiyo was a daughter of the first lord of Gujo Hachiman Castle.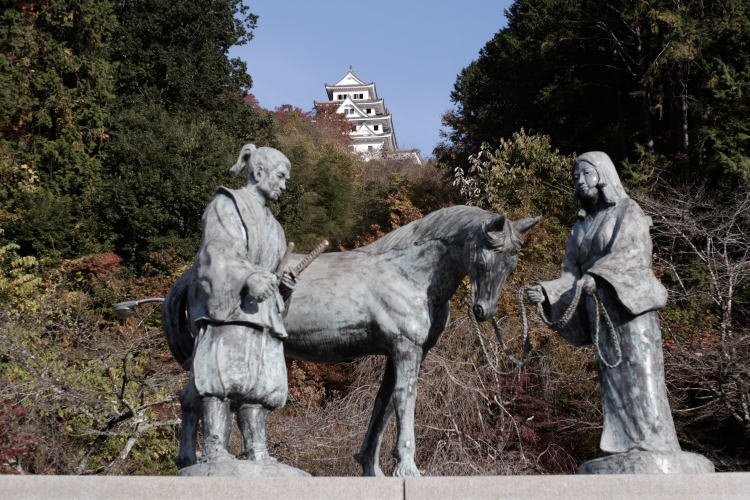 If you asked people to name sightseeing spots in Gifu, the first place that comes to people's minds would be either Takayama or Shirakawa-go Village. Well, there is no denying that both Takayama and Shirakawa-go are well-known sightseeing spots of Japan, but it's too bad that other interesting places in Gifu, such as Gujo Hachiman, tend to take a backseat, hidden under the shadow of these two worldly-famous places.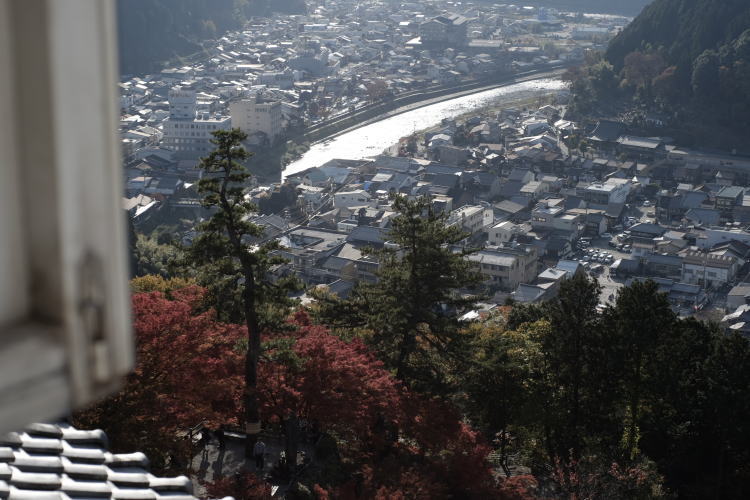 Gujo Hachiman Town has developed, over time, as a transportation hub connecting the surrounding towns and villages. With a lot of mountains, this area doesn't have much flat land suitable for agriculture. Instead, commerce and wood-working have prospered here.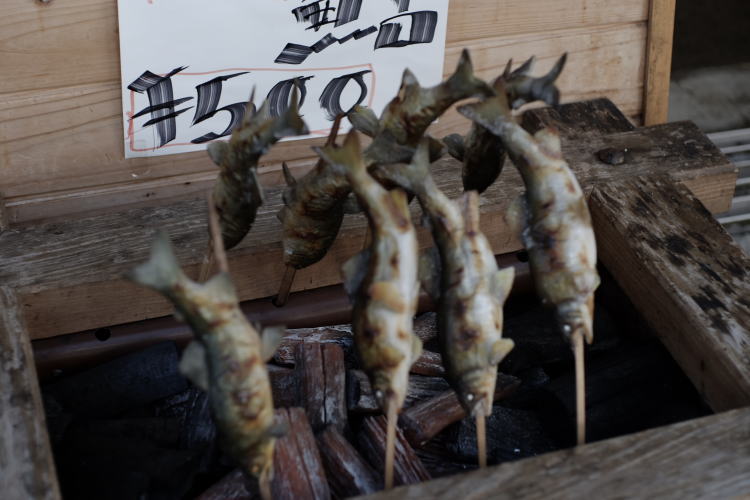 And, being situated in the upper reaches of the Nagara River, the town is known for its fishing-related crafts, like traditional-style fishing rods and fish baskets. Speaking of food, Gujo Hachiman is considered to be one of the three major hunting grounds for wild boar in Japan, and many restaurants in town serve shishi-nabe, a hot pot dish with wild boar and vegetables, in winter. And ayu, or sweet fish, caught around here is said to be the best in Japan.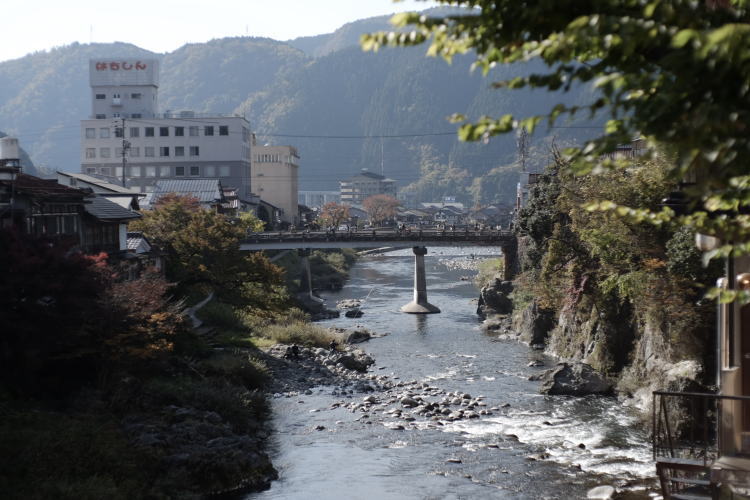 Gujo Odori Festival
Yet, perhaps to most Japanese, Gujo Hachiman is known for its traditional dancing. With its history of 400 years, the Gujo Odori Festival is held every summer in the town. The highlight of the festival is the four-day Obon period in mid-August when people gather from all over Japan to dance all through the night to the tunes of traditional minyo folk songs. There are ten different dances and all of them are listed as an Important Intangible Folk Cultural Property. Unfortunately, this festival was not held in 2020 because of the corona virus, but if you visit the town's museum, Gujo-Hachiman Hakurankan, you can see the actual dances performed by local women clad in yukata, and you can also learn some of the choreography there.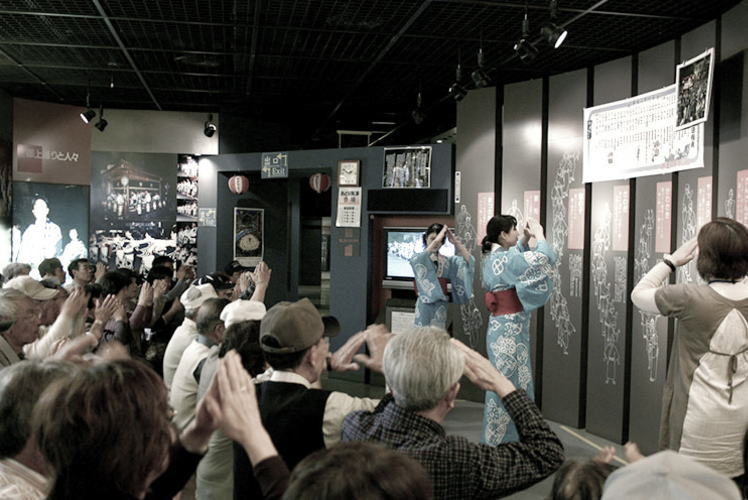 A Town of Water
Gujo Hachiman is also known as a "town of water," and this may have something to do with its natural environment. The town is located in a mountainous area, with three clear rivers running through it. And this area gets a lot of rain and snow, with the annual precipitation of around 2,800mm, which far exceeds the nation's annual average of around 1,700mm.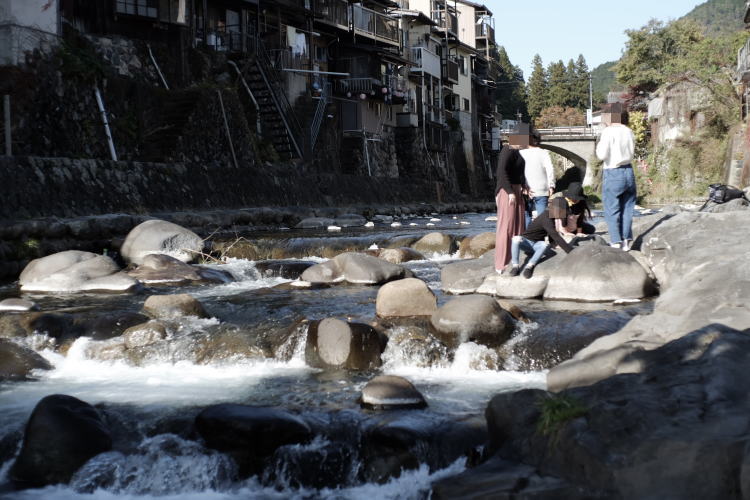 Also, there are a number of limestone caves in this area (and some of them are popular sightseeing spots). A limestone cave often has a subterranean river running through or near it, and its water, with a lot of minerals, can be quite good in quality because it is filtered through limestone rock layers.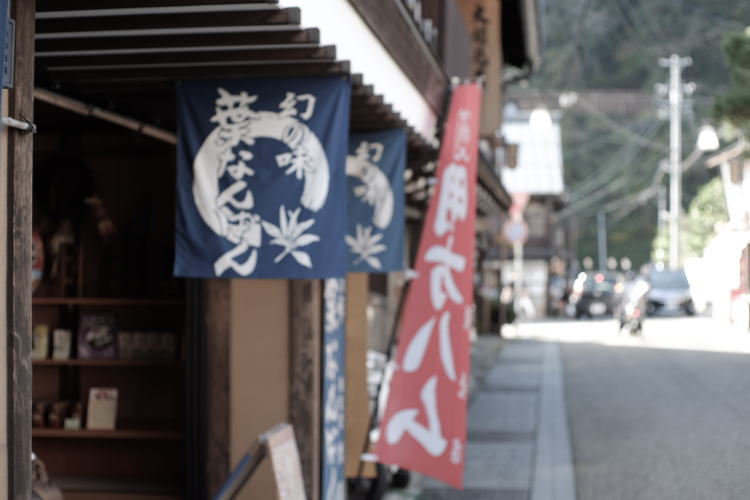 Thanks to these natural conditions, there are many water springs and wells in the town of Gujo Hachiman. Since long ago, people have been utilizing these waters for various purposes, including drinking, washing, and fire-fighting. If you take a walk on the streets today, you may notice a network of canals and streams, clear water flowing in them, crisscrossing the town. This flowing water makes your strolling through the old town even more pleasant. The basis of this network was first established in the Edo Period by Endo Tsunetomo, the sixth lord of Gujo Hachiman Castle, when he felt a strong need for water to fight fires after seeing part of the town destroyed by a fire in 1652.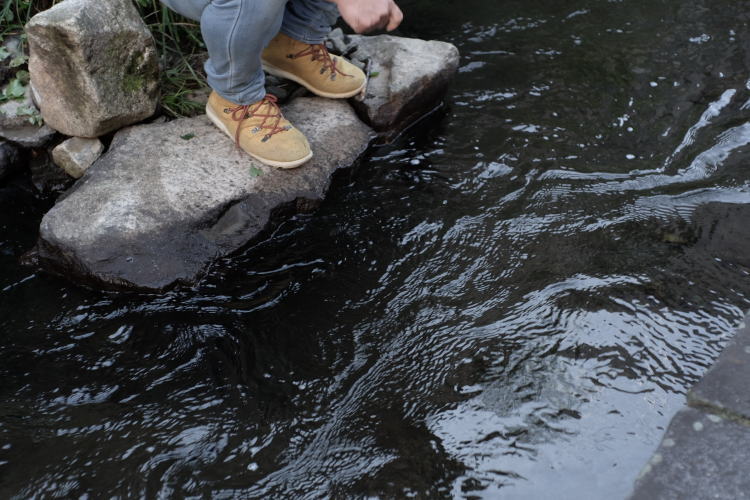 Along these water canals, you may see some old-fashioned washing equipment or other contraptions, such as mizubune (水舟, literally a "water boat"), which is a sort of water trough made of wood (or sometimes concrete), that usually has two or three compartments. People used to draw water from a spring or a well into its top compartment through a hose. The water in the top compartment was mainly used for drinking, while the water in the lower compartments was used for such things as washing vegetables or dishes.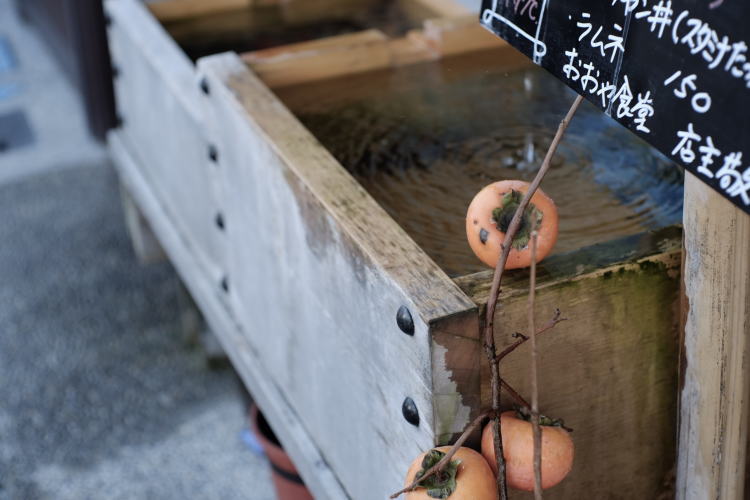 It is said that in the old days, almost every household had this mizubune device in their backyard. Today, however, there are not many people in Gujo Hachiman who still use one. With the development of the modern plumbing, residents there now use tap water and wash their clothes with a washing machine. But the fact that some of the mizubune in the town have been maintained and still functional shows that local people cherish their old tradition and at the same time, strive to promote the image of Gujo Hachiman as a "town of water."
Sogi-sui Spring
Of several water-related attractions the town has, perhaps the most well-known is the Sogi-sui spring alongside the Kodara River. In this place, clear ground water has been constantly welling up since long ago, and above the water source stands a small wooden shrine. In March 1985, when the Environmental Agency of Japan (the present-day Ministry of the Environment) selected the "100 Exquisite and Well-Conserved Waters" in Japan, the first site they chose was this one. Today we can see many visitors drink this spring water from ladles which are placed beside the shrine. There is a certain elegant atmosphere in its surroundings, created by a stone-paved path, a weeping-willow tree, and old wooden houses.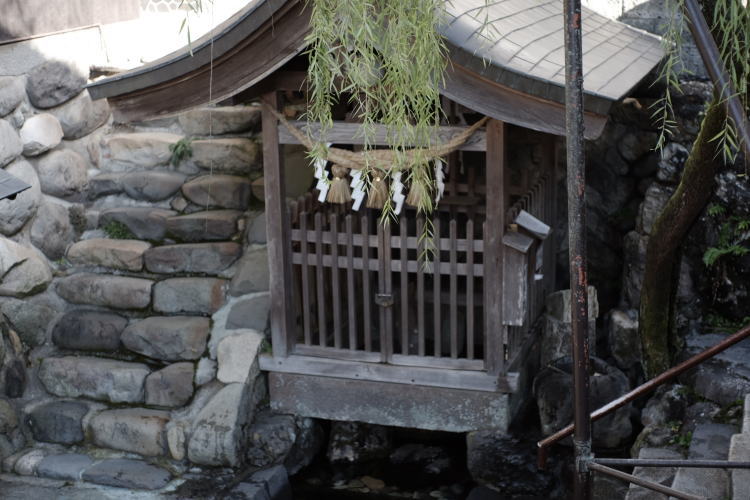 The name Sogi-sui was derived from Ino Sogi, who was a 15th-century itinerant poet specializing in renga (Japanese collaborative poetry). The story goes that in 1471, when he was staying at a thatched hut near the spring, he received Kokin denju (古今伝授) from Tou no Tsuneyori, the feudal lord of Gujo at the time. Tsuneyori was also known as a worrier poet well-versed in the interpretation of Japnese waka poems . Kokin denju is the act of a waka master imparting his or her pupil the "secrets" of the Kokin Wakashu (one of the most important waka anthologies which was compiled in the early 10th century). After the Kokin denju was completed, the two exchanged waka poems each other, and then Sogi departed to Kyoto.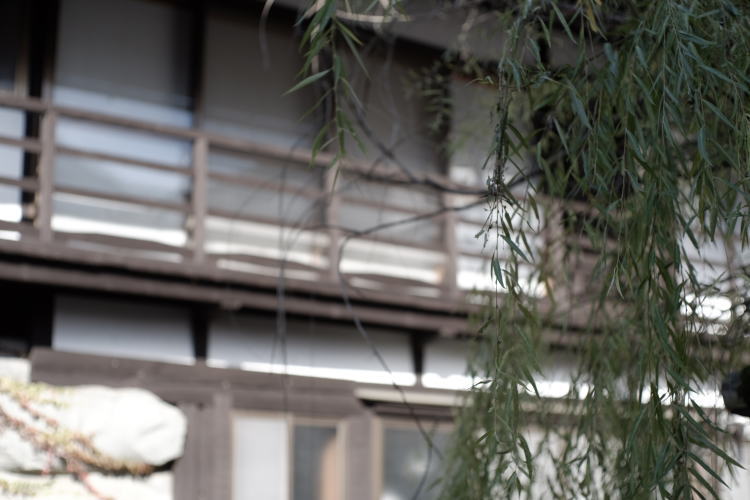 Similar to the mizubune water trough, the water canal extending from the Sogi-sui spring has a step-like structure. And each step has rules on how the water is used, which everyone should abide by. What should be noted about Sogi-sui is that the water here is still used by some local residents for some tasks as it was used in the past. In addition, they have formed several groups that take turns cleaning the site once a week. Being able to see the scenes where local people value the relationship with water is certainly one of the highlights of traveling to Gujo Hachiman.
Igawa Walkway
Igawa Komichi (literally, Igawa Walkway) is another popular water spot in town. This narrow community path, a hundred and nineteen meters in length and just one meter in width, stretches along Gujo Hachiman's largest canal. The water here has been used as the town's fire-fighting water for a long time.
Along the path, there are a couple of old-fashioned communal "washing places" with pieces of wood spaced across the canal. And if you look into the clear water, you can see many carp and other river fish swimming leisurely there. As with the Sogi-sui site, Igawa Walkway is managed and preserved by local residents.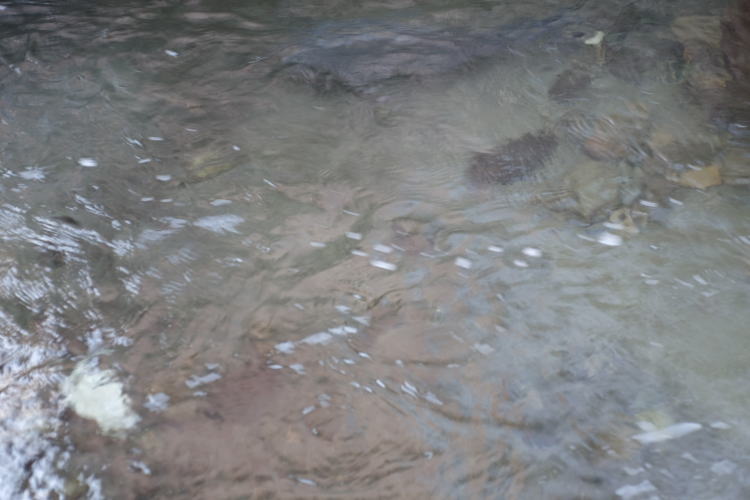 I asked a woman working in tourism in Gujo Hachiman if these washing places are still frequently used by local people.
"Not that much," she answered. "Today, every household has tap water, and everyone has a washing machine in their houses. So, the number of people who are actually using these places is small."
"How many people are involved in the management and preservation of this place?" I asked.
"Such work is being done voluntarily by the residents in this area. I think there are about 20 to 30 households here."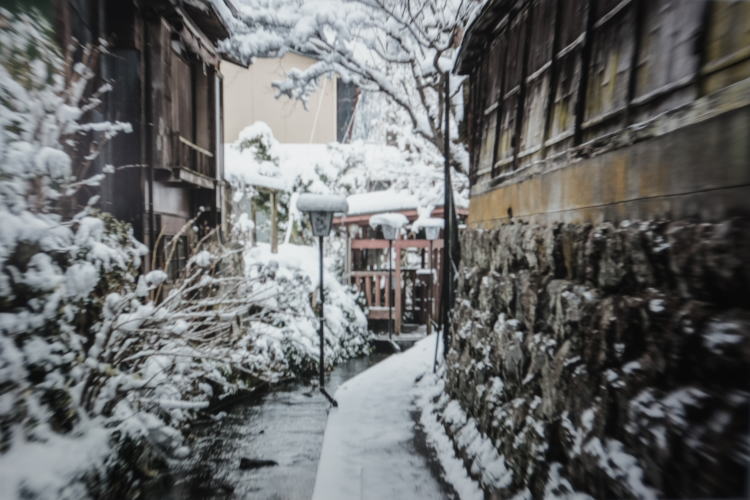 Since I had heard somewhere that the current emperor of Japan once visited Igawa Walkway, I tried to confirm that with her.
"That's right, though he was still the crown prince then. He came with Princess Masako, the current empress.
"When did the visit take place?" I asked.
"Let me see . . . around the 28th year of Heisei, I suppose," she replied.
"At that time, did they visit other places in Gujo Hachiman?"
"No, they visited only Igawa Walkway."
I asked her what exactly was the purpose of their visit.
"To observe the water and water system here. They are studying water or something."
"I see," I said. "By the way, the carp swimming here are all very fat!"
She said, "Because people are feeding them. You can get food for them over there for 100 yen."
Yanaka Water Path
Yet another popular water-related spot in Gujo Hachiman is Yanaka Mizu no Komichi (literally, Yanaka Water Path), which is a small but elegant path along a canal. The ground here is covered with 80,000 river stones, which are laid out so as to express a whirling current of water. (The number 80,000 is "hachiman" in Japanese.) This place is also called the "museum street," with three small museums along the path.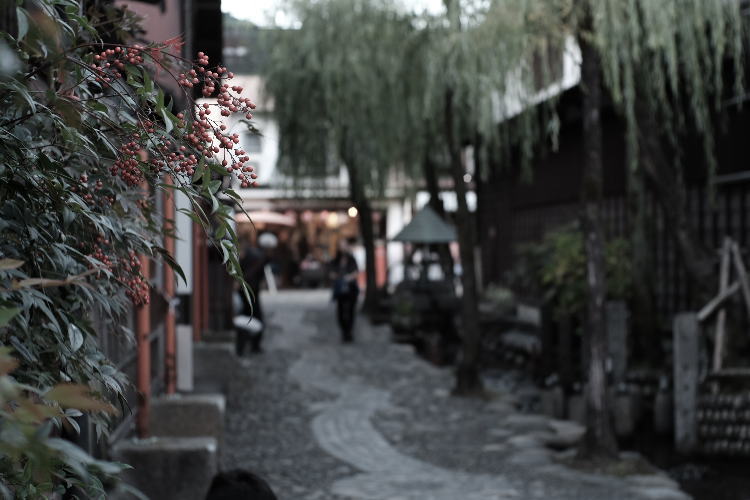 Yanaka Water Path is relatively new as a tourist spot. This narrow path used to be called Yanaka Street, named after the nearby Yanaka Inari Shrine. By the 1960s, with the development of the modern-day water works, people in Gujo Hachiman came to become less and less dependent upon the water from the wells and old canals. At the same time, deteriorating water quality began to emerge as a problem.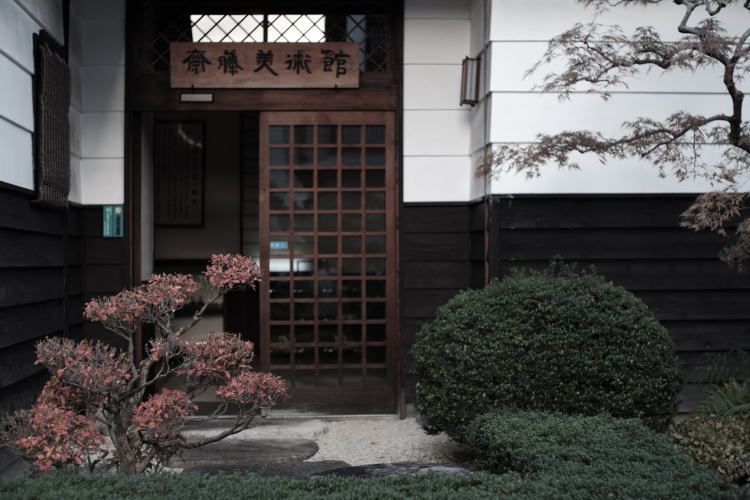 As time went on, the 1980s saw growing momentum among the public and private sectors that the then conventional water system needed to be improved and the town's people should rediscover their traditional ways of living that utilize local water sources. It was amidst these trends that old Yanaka Street was drastically renovated and was reborn as Yanaka Water Path in 1988.
Gujo Hachiman Castle
If you still have time after strolling through the town of Gujo Hachiman, I hope you will visit Gujo Hachiman Castle which sits on a hill. You can go up the hill by car as there is a small parking lot at the top. But if you do, please take heed of pedestrians because the road is very narrow. If you are not too tired, I recommend you park your car at the foot of the hill and ascend the hill on foot so that you can enjoy the splendid scenery as you climb. From the foot of the hill, a 15- to 20-minute walk takes you to the castle.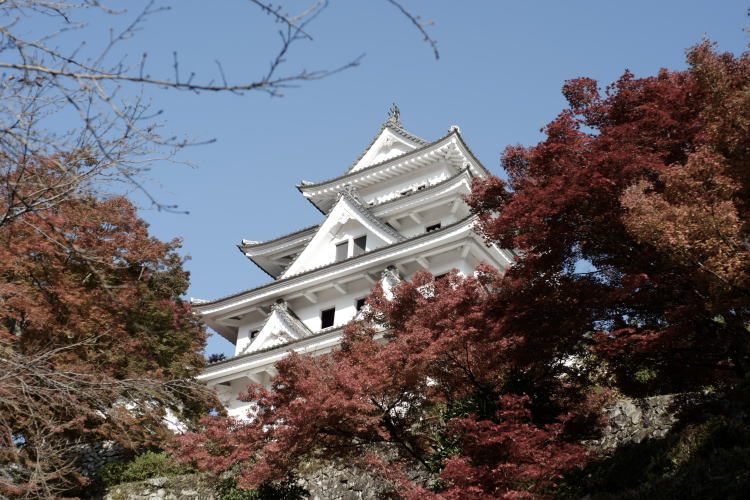 With one river flowing to the south and another to the west, Gujo Hachiman Castle was a natural stronghold. The origin of the castle dates back to the 16th century when Endo Morikazu built a fortress at the top of the hill. Since then, the castle was held by many feudal lords from various clans, and a couple of big battles were fought over it. In particular, a big farmers uprising in the Edo Period, called Gujo Ikki (literally, Gujo Uprising), which occurred in 1754, eventually led to the banishment of Kanamori Yorikane, the lord of the castle at that time.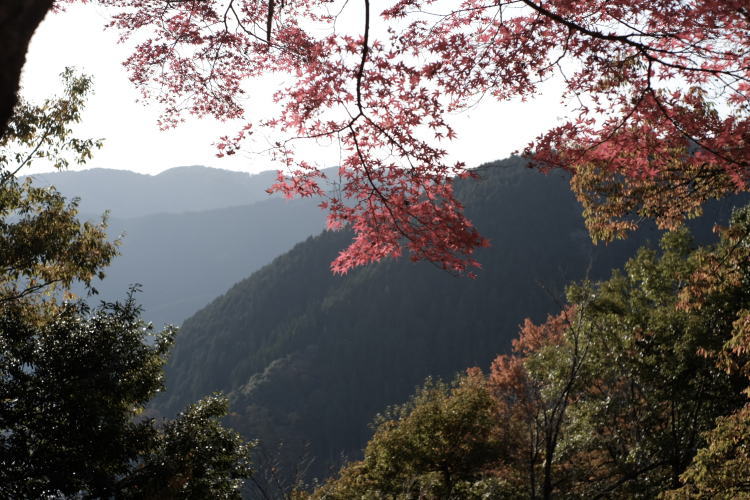 Then, in 1759 Aoyama Yoshimichi entered the castle as a new ruler of Gujo. And after that, the town was ruled for over a hundred years by seven generations of the Aoyama clan until the Meiji Restoration in 1867. It is said that these rulers from the Aoyama clan made great contributions in civic life, holding horse fairs and encouraging Bon Odori dancing as the entertainment of ordinary people, thus laying the foundations for present-day Gujo Hachiman, which is known for dancing and traditional folk songs.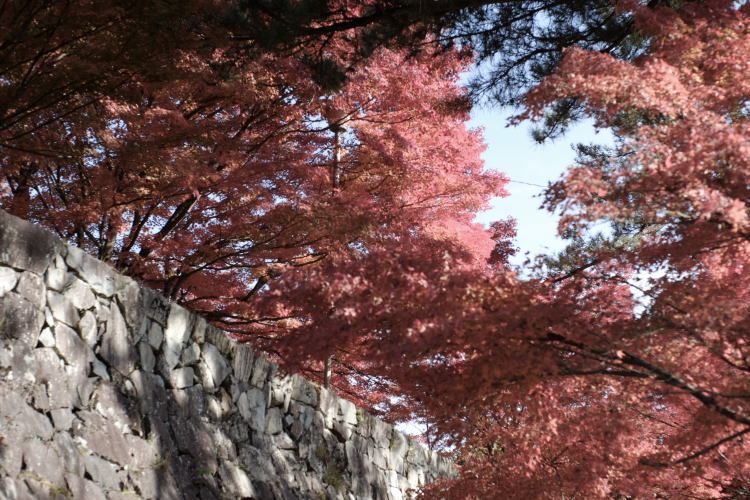 The novelist Ryotaro Shiba once described Gujo Hachiman Castle as being "the most elegant mountain castle in Japan." Especially in November, the autumn foliage against the backdrop of the castle's white walls is very beautiful. Actually, the castle buildings we see today, including the keep with its four stories and five roofs, are replicas rebuilt in the 1930s. That is why now the castle is often called "the oldest reconstructed wooden castle in Japan." On the other hand, part of the stone walls and other ruins of the castle have remained intact since the 16th century.
Getting There (Map in English)
The central area of Gujo Hachiman Town is about a ten-minute drive from the Gujo-Hachiman Interchange on the Tokai-Hokuriku Expressway. However, this old town doesn't have many large parking areas. So, if you visit the town during a crowded tourist season, like August or November, it might be better for you to park your car outside the center of the town and walk from there. If you use a railway, it is about a 30-minute walk to the center of the town from Gujo-Hachiman Station on the Nagaragawa Railway. At the station, you can also catch a bus that goes around the town.
Other Photos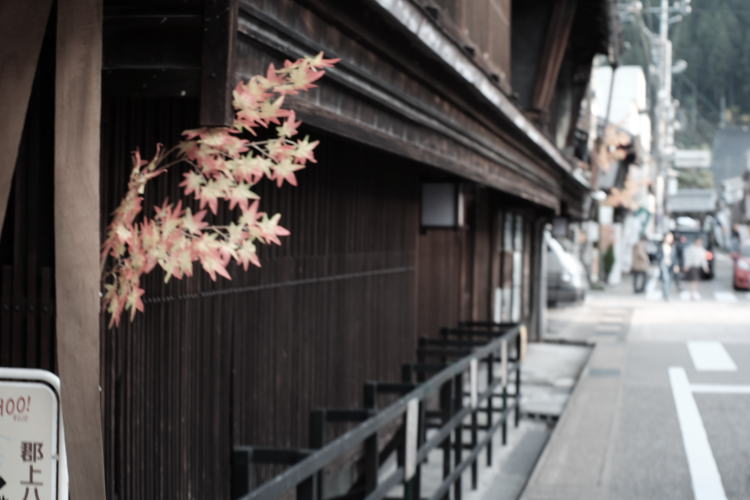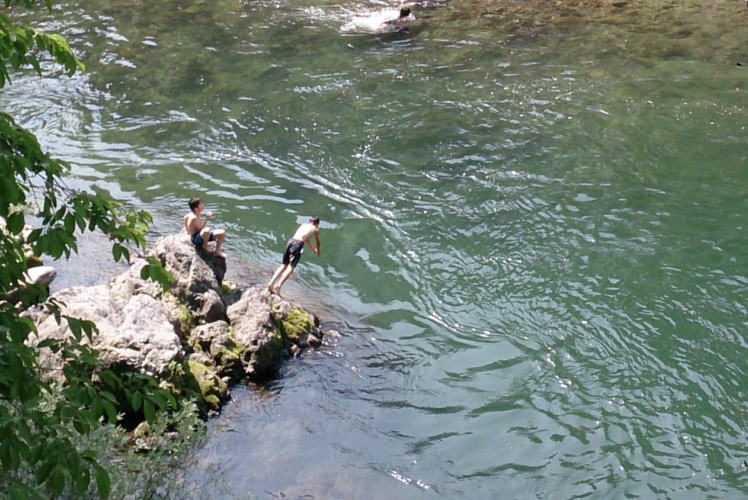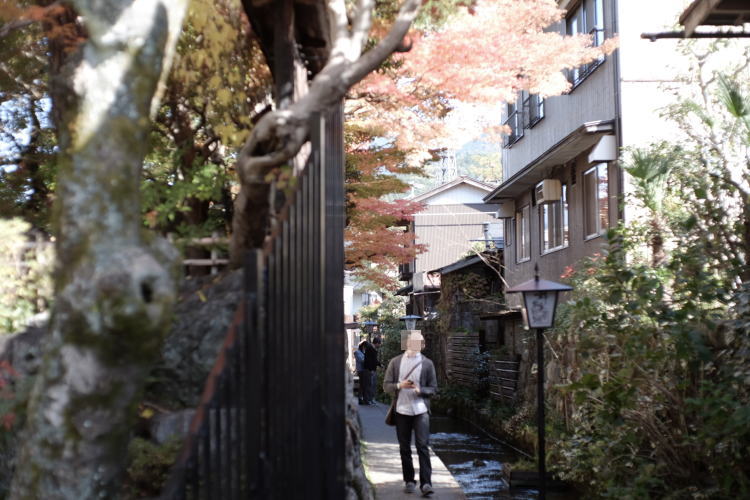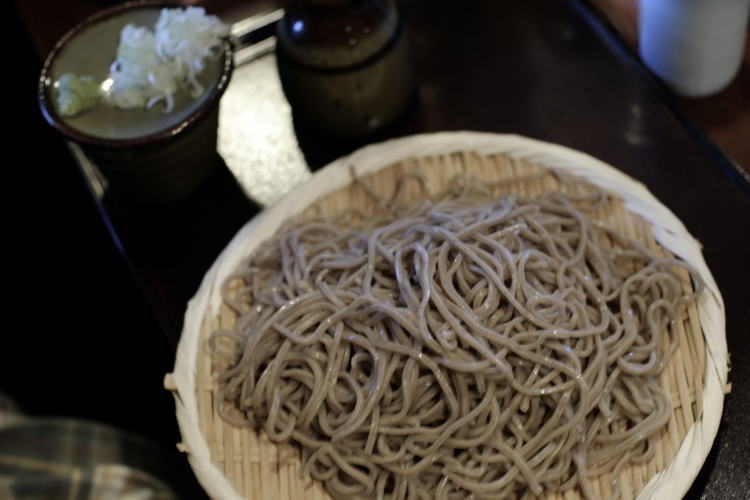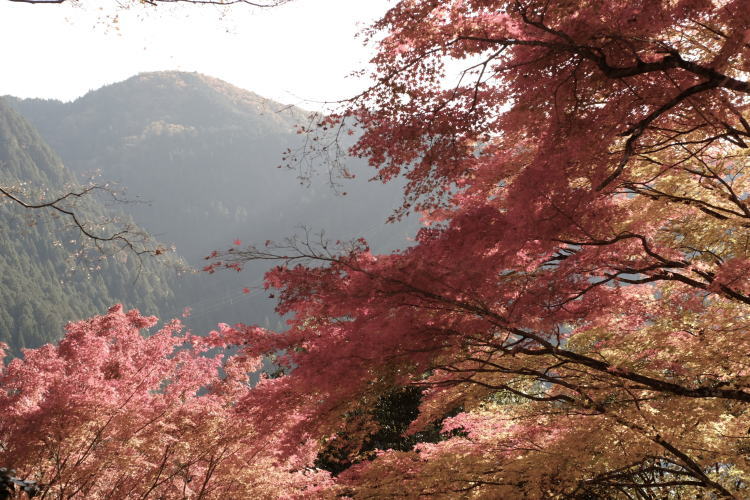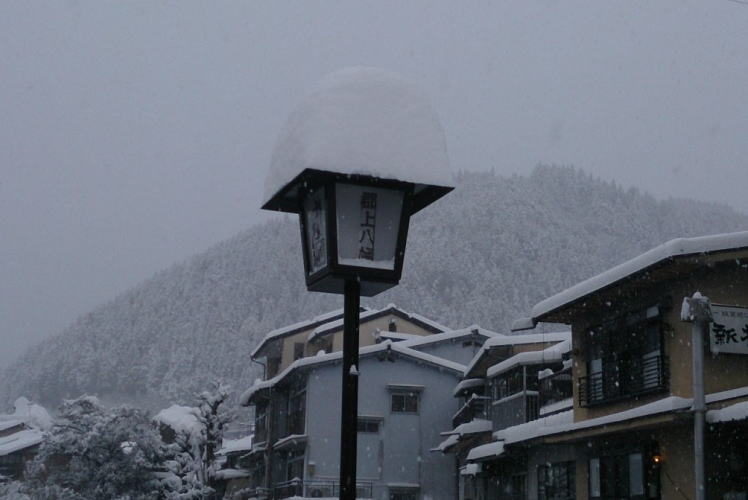 Places Nearby
From the town of Gujo Hachiman, about an 82-minute drive to the north will take you to Shirakawa-go Village, which is a UNESCO World Heritage site famous for its thatched "gassho-style" farmhouses. And the town of Takayama lies about a 75-minute drive to the northeast. Takayama is a beautiful old town surrounded by steep mountains, repeatedly received three stars in the Michelin guidebooks. Also, if you drive south for about one hour, you will enter the capital of the prefecture, Gifu City, where Gifu Castle stands at the top of Mt. Kinka, and where traditional cormorant fishing can be observed along the Nagara River in summer.
Conclusion
Although Gujo Hachiman is a small town in the mountains, the shadow of the corona virus has inexorably reached here. On December 26, 2020, Gujo City confirmed its third case of COVID-19 (the first case was found on November 21, and the second case on November 28). And according to one source, the number of tourists this fall has decreased compared to last year. However, the town still has many visitors and the Gujo-Hachiman Hakurankan still offers Gujo Odori dancing every day. If you are interested in Gujo Hachiman Town, or are thinking about visiting this area in the future, please send an e-mail through the Rate/Contact page of this site.
Photographs on this page were,
unless otherwise noted,
taken in Gujo Hachiman Town, by Koji Ikuma,
with Fujifilm X-T1 equipped with an XF 35mm F2 R WR lens.