Wakutama Pond (or Wakutama-ike) is an interesting spot near Mount Fuji. It is located in the precinct of the World Heritage shrine, Fujisan Hongu Sengen Taisha, in Fujinomiya City, Shizuoka Prefecture (in the Chubu Region). When you finish worshipping at the main building of the shrine and exit the graveled main sanctuary area through the small east gate, you will come to this beautiful pond.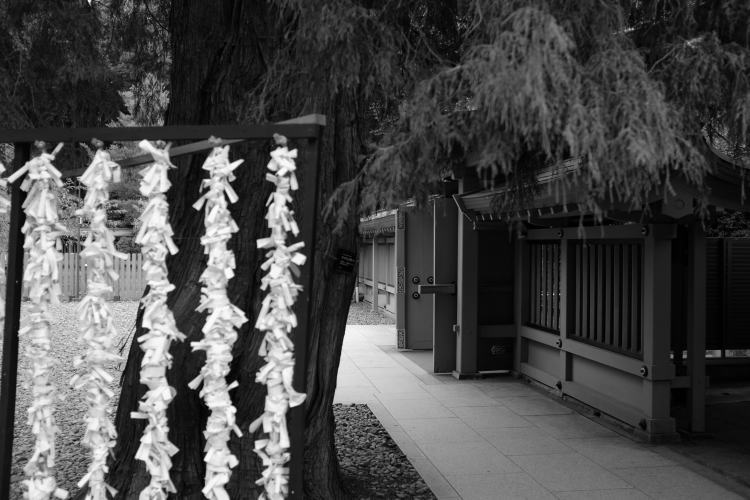 This spot is one of the hidden gems in Japan. It was designated as a "Special Natural Monument" of the nation in 1952, and its water was selected as one of the "100 Excellent and Well-Conserved Waters in the Heisei Period" by the Ministry of the Environment in June 5, 2008.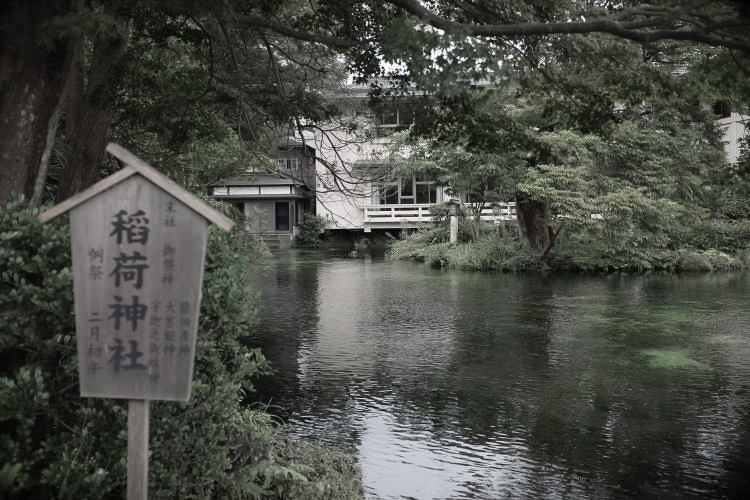 Water from Mount Fuji
Wakutama (湧玉) could mean 'rising bubbles' or 'gushing jewels' in Japanese, and as its name suggests, this is not an ordinary pond. The water of the pond is actually spring water from Mount Fuji, which is constantly gushing out from among the rocks at the bottom of the pond. The quantity of the spring water is said to be 200,000 tons per day (3.6 kilo liters per second). A stream from the pond traverses Fujinomiya City, before it joins the Uruoi River and finally flows into Suruga Bay, which is open to the Pacific Ocean.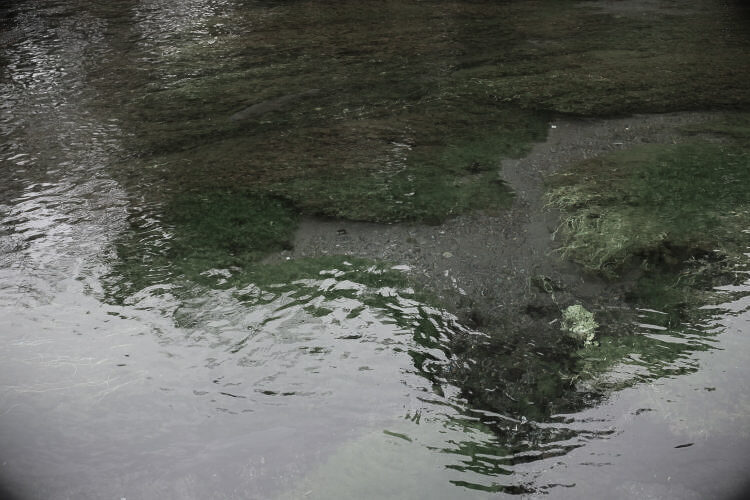 Mount Fuji used to erupt occasionally (although it has been quiet since its last eruption in 1707). As a result, much of the ground around the mountain consists of basalt rocks, which were formed from cooled lava. According to recent studies, the rain or snow that falls on the upper and middle parts of Mt. Fuji seeps into the ground, and the rainwater or melted snow moves very slowly, as 'pressurized ground water,' through the layers of volcanic rocks, and it eventually comes out onto the ground at the very point where the ancient lava flows stopped.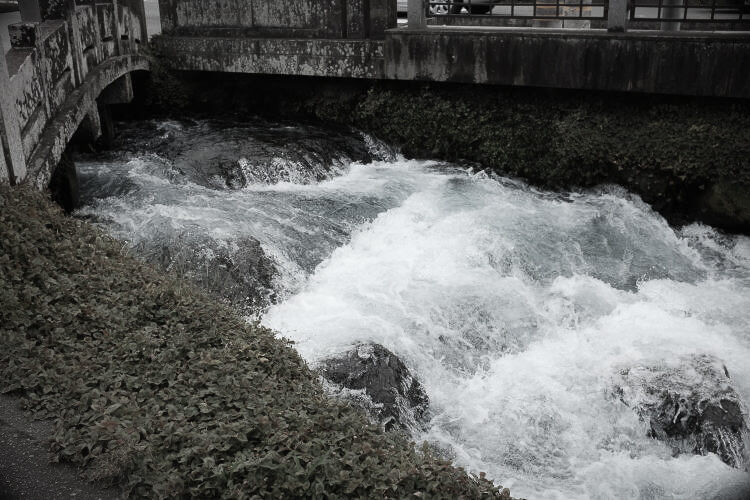 Wakutama Pond happens to be located at one of those 'terminal points' of lava flow, and that is why there is a large amount of spring water bubbling up consistently there. And the water temperature of the pond remains steady all year round at about 13 degrees Celsius (55 degrees Fahrenheit).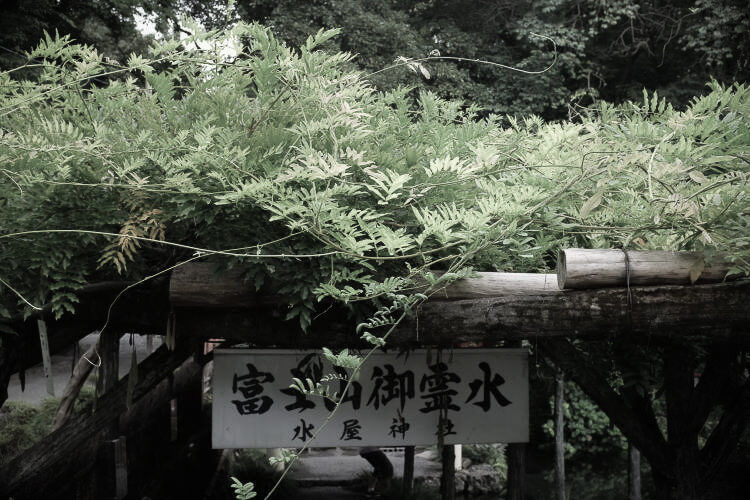 Fifteen Years
The theories vary among experts on how many years it takes from the first precipitation onto the mountain to the water's eventual emergence at the spring. Once it was said that it takes about 100 years. But one of the dominant theories today claims that it takes just 15 years. Considering the fact that Wakutama Pond is a distance of about only 20 km from the summit of Mt. Fuji, that's a long time. So, if you stand by the pond and gaze at the water, it might be interesting to think about what you were doing 15 years ago when the water you see first fell onto Mount Fuji!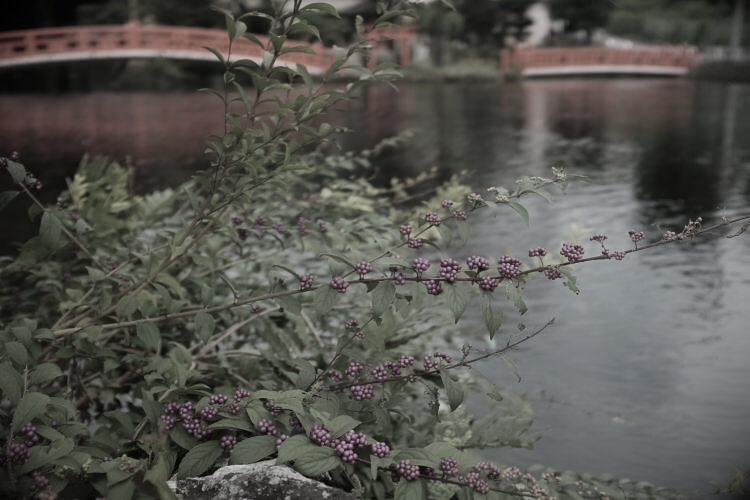 Pilgrimage Route
Wakutama Pond is also important from cultural and religious points of view because it is a place where people in the Middle Ages would perform 'cold-water ablutions' before ascending Mount Fuji. Here we need to understand that, in former days, people didn't climb Mt. Fuji for sport or leisure as they do today. But they climbed it as a kind of religious activity. People believed that kami (Shinto gods) resided in Mt. Fuji, or that Mt. Fuji itself was kami. So, if people had an occasion to climb the mountain from its southwest side, they used to come to this pond first and disrobe there before purifying their bodies and minds in its 'holy water'. Then they would begin ascending the mountain to get closer to kami. These activities of medieval Mount Fuji pilgrims at Wakutama Pond are well documented in the 16th-century religious painting called Fuji Mandara.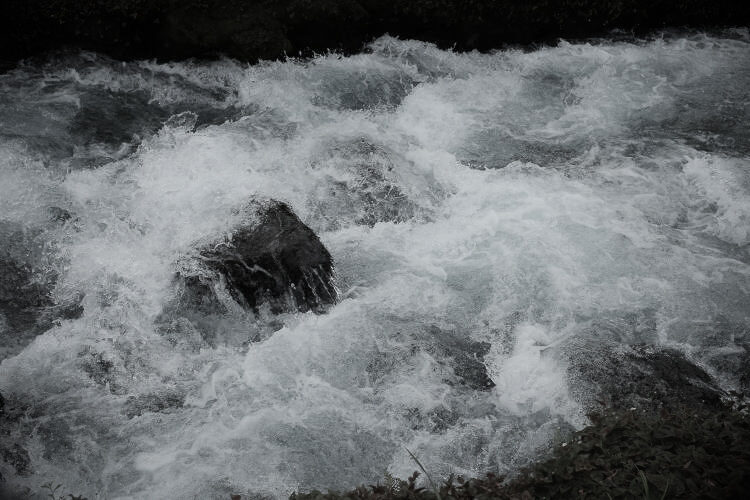 Conversation with an Old Man
Once I talked with an elderly local person by the pond. He said that he had his wedding ceremony held at Sengen Taisha when he was young. So I asked him what the ceremony was like.
He said, "Well, all I can remember is that the hall was cold. It was very cold. But we had an accompaniment of traditional Japanese flute music and dancing. It was a live performance, not from a tape."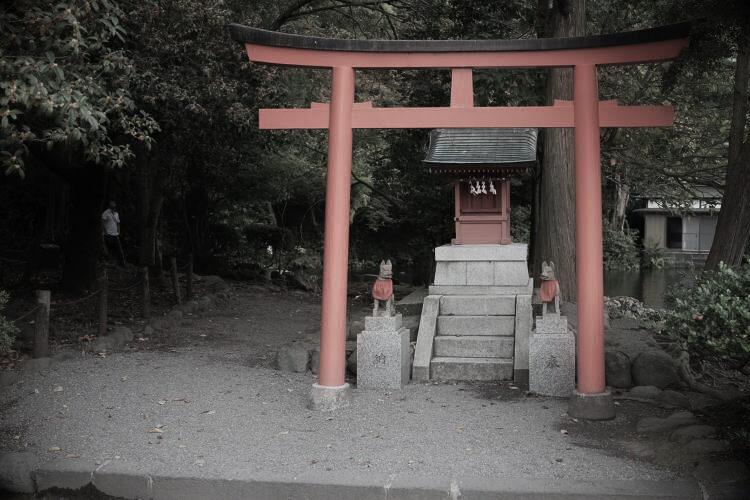 "Where did you go for a honeymoon? Was Hawaii a popular destination?" I asked.
"No, Hawaii was not yet popular as a honeymoon spot at that time. Only a handful of rich people could go to Hawaii. Kyushu was the most popular spot when we were young. So we went to Aso."
Mount Aso and its surrounding area in Kumamoto Prefecture is still a popular sightseeing spot in the Kyushu Region. He told me that, when he was a child, he and his friends would often get into the cold water of the pond to gather shellfish, and sometimes they could get even scallops there.
UNESCO World Heritage Site
Of course, no one enters into the pond to gather shellfish nowadays. Sengen Taisha Shrine, which contains Wakutama Pond in its precinct, became a UNESCO World Heritage site in 2013 along with Mt. Fuji itself.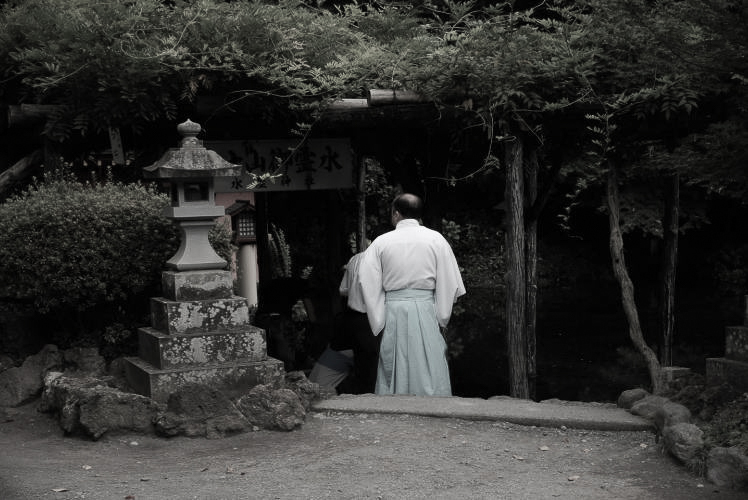 Lastly, I would like to note that this pond is a very photogenic place. Besides the crystal clear water in which we can actually see some fish swimming, the picturesque foot bridge and the small shrines with their vermillion-colored tori-i gate add an exotic touch to the pond. Speaking of flora, the wisteria trees beside the small structure of Mizuya Shrine (See the top photo on this page) by the pond open their flowers in spring, and the waterweeds open their white flowers in summer.
---
Getting There (English Map)
Wakutama Pond is about a 20-minute drive from the Fuji Interchange on the Tomei Expressway, or about a 18-minute drive from the Shin-Fuji Interchange on the Shin-Tomei Expressway. If you use a railway, it is about a 12-minute walk from Fujinomiya Station on the Minobu Line.
Other Photos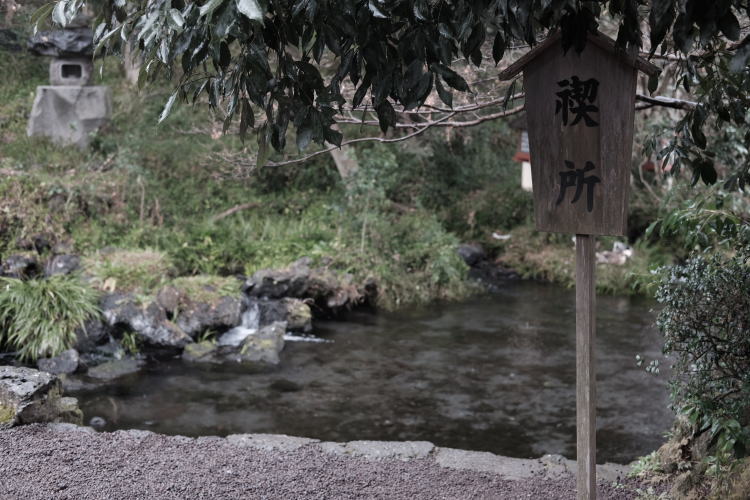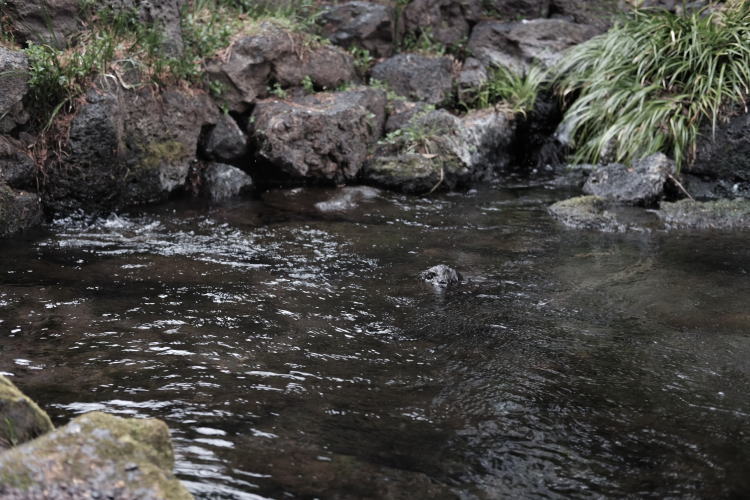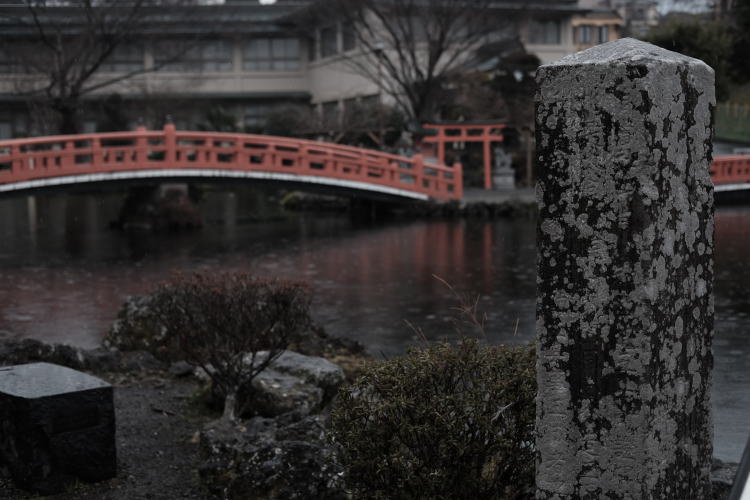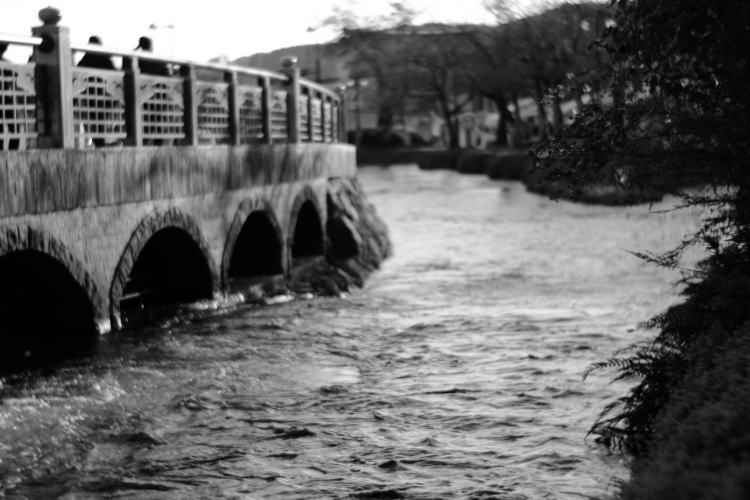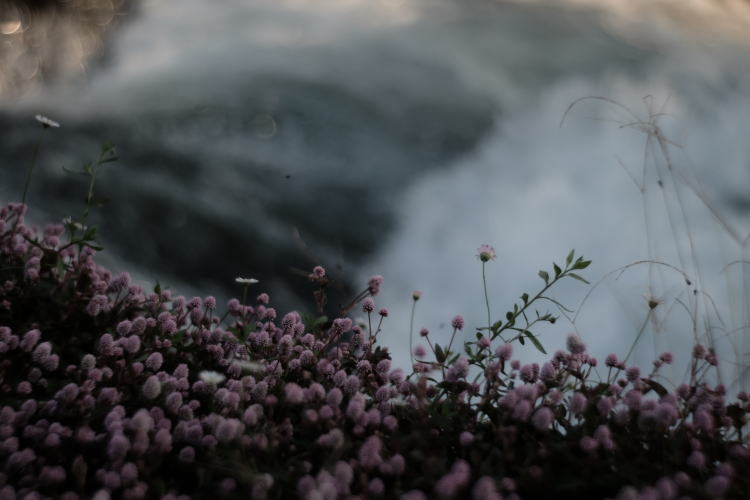 Places Nearby
If you want to visit other places nearby, there are several interesting spots near Wakutama Pond. Fujisan Hongu Sengen Taisha Shrine has been closely related to Mt. Fuji since ancient times. The shrine's main buildings we see today were built in 1604. And their unique architectural styles and traditional hinoki-bark roofs are worth paying attention to.
Mt. Fuji World Heritage Centre, Shizuoka is also close to Wakutama Pond (about 10-minute walk). This museum is located just next to the ichino-torii (the first torii gate) of Sengen Taisha. Now, with a number of excellent exhibitions, it has become one of the most popular tourist destinations in the area.
Omiya Yokocho is located in front of the bus parking lot of Sengen Taisha Shrine. In this spot you can have some famous local dishes such as Fujinomiya Yakisoba (Fujinomiya-style fried noodle).
Conclusion
I am sure you can enjoy Wakutama Pond even if you go there by yourself. But if possible, I hope you will get a tour guide to take you there, because I think he or she can give you more in-depth knowledge about the pond. If you are interested in a guided tour in and around Wakutama Pond, please send an e-mail from the Rate/Contact page of this site.
Photographs: taken at Wakutama Pond,
by Koji Ikuma, with Fujifilm X-100T,
unless otherwise noted.
---
Outbound Links (New Window)