On a hot and sultry day in August 2018, I had the pleasure of joining a group of people picking Japanese green tea leaves at the "Nihondaira Ocha Kaikan," which literally means "Nihondaira Hall of Green Tea" (green tea is called ocha or sencha in Japanese). This family-run facility operates at the top of the 307-meter (1007 feet) Nihondaira hill, and it is about a 30-minute drive southeast from JR Shizuoka Station, and about a 20-minute drive southwest from Shimizu Port. During the period stretching roughly from the middle of April through the end of October, they offer visitors a tea-picking experience for a fee of 500 yen in their own tea field.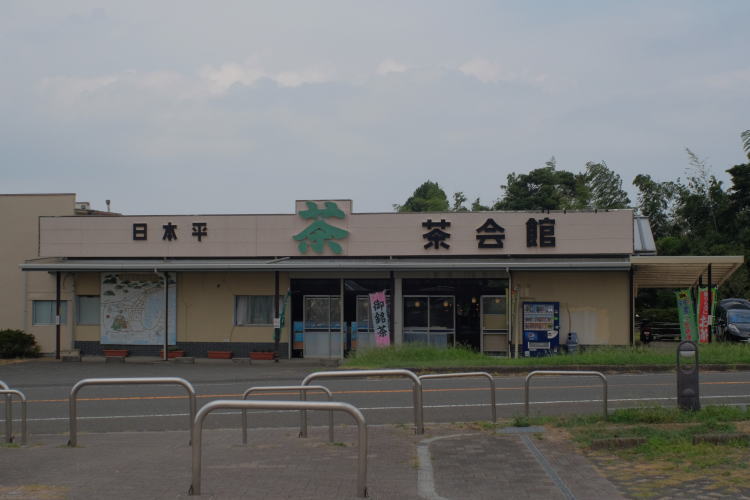 That day, thirty-nine supporters of the J-League Division 1 team Kawasaki Frontale were scheduled to visit the "Ocha Kaikan" to enjoy tea picking. They were to come all the way from Kawasaki City, Kanagawa Prefecture, traveling a distance of about 173 km (107 mi.) by chartered bus. The main purpose of their visit is to watch the team they support take on the local professional team, Shimizu S-Pulse, at the nearby AIA Stadium Nihondaira.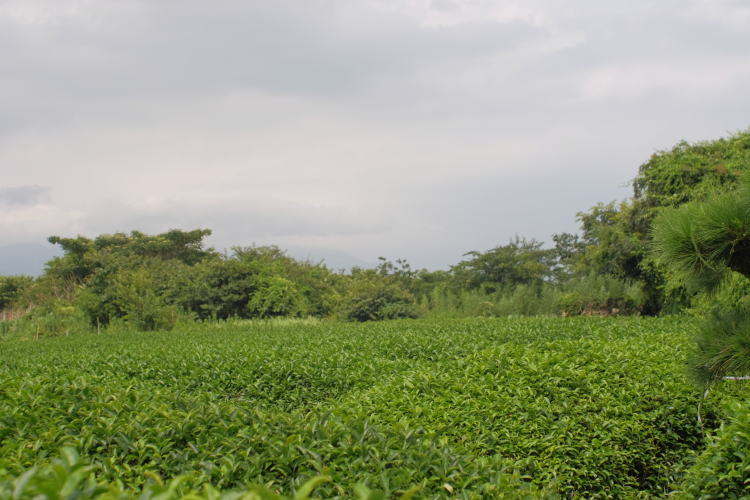 Incidentally, this area around Nihondaira hill is located roughly at the center of Shizuoka Prefecture. And probably many Japanese associate the prefecture with any of these things: Mt. Fuji, Japanese green tea, or maybe soccer (football). Mt. Fuji, Japan's highest mountain, is at the northeast edge of the prefecture (although the northern half of the mountain belongs to Yamanashi Prefecture). Speaking of green tea, Shizuoka is Japan's No.1 prefecture both in terms of its production volume and the total land area of tea fields.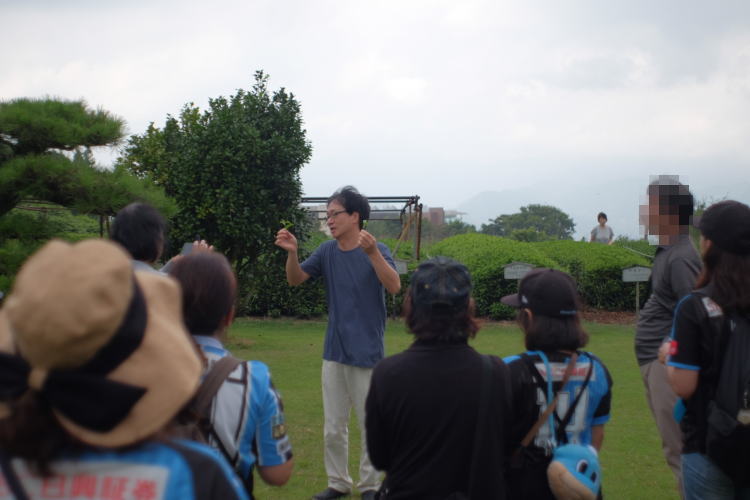 People in Shizuoka Prefecture (especially people in the Shimizu area) are also known for their enthusiasm for soccer. With two professional teams in the J-League's Division 1, Shimizu S-Pulse and Jubiro Iwata, Shizuoka Pref. have sent many of its excellent players to Japan's national team. And high school soccer teams representing Shizuoka Prefecture have been consistently strong in the national tournament, although, compared with a couple of decades ago, Shizuoka's teams are not so dominant nowadays, because of the emergence of other strong teams from other prefectures.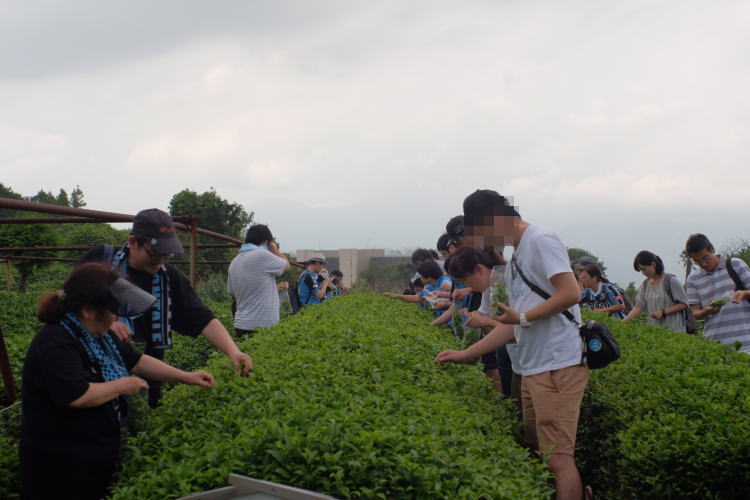 At "Ocha Kaikan," weather permitting, you can enjoy the view of Mt. Fuji over the tea field, and that has led me to think that this is a very symbolic place where you can appreciate two of Shizuoka Prefecture's iconic images, Mt. Fuji and green tea fields, simultaneously. Such places are not so large in number around this area. And for me, the day of the Kawasaki supporter's visit might have become even more special if Mt. Fuji could have been seen, because in that case I could have witnessed a very rare moment when these three symbols Shizuoka boasts of—Mt. Fuji, green tea and "soccer"—were visible from one place. That was why I had been looking forward to the events of that day. If you have an ambition to absorb the essences of the region conveniently in one moment, the day like this should not be missed!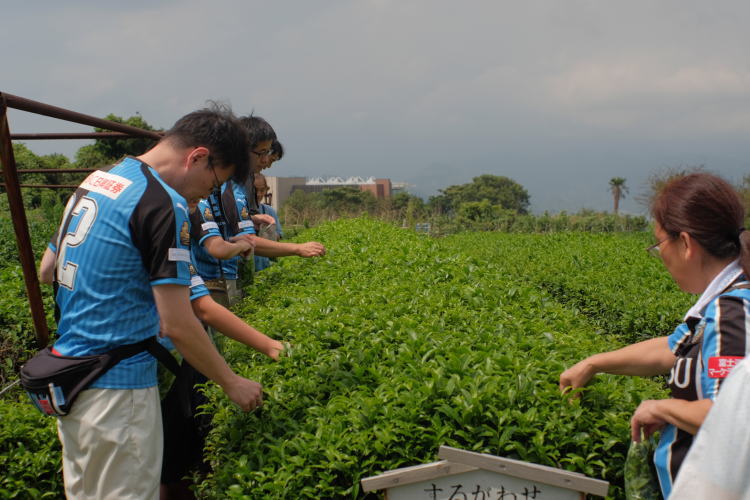 But unfortunately, when I reached the top of the hill, I realized that Mt. Fuji was thickly covered with clouds. Although it was not raining, it seemed to me that the chances of a sudden gust of wind dissipating the heavy clouds from the overcast sky were slim. Then, at around one o'clock, the 39 supporters of Kawasaki Frontale arrived. They came there after having lunch at S-Pulse Dream Plaza near Shimizu Port. At first, Mr. Takakuwa the chairman of Ocha Kaikan expressed his thanks to the supporters for coming all the way from Kawasaki City, and then he began to explain how to pick tea leaves. Each supporter was handed a plastic bag to put plucked tea leaves in, so that they can take them to home, and the tea picking began.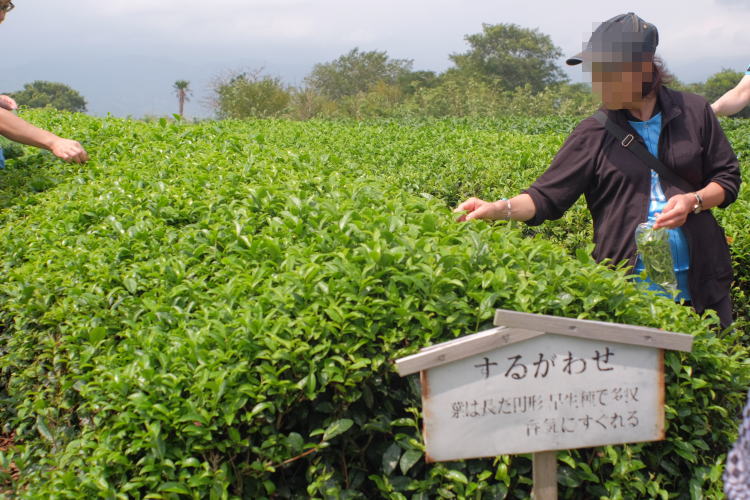 During the activity, one of the supporters who very much wanted to see Mt. Fuji asked me what time of the year he should visit there to see it. It was an interesting question, because that is one I have been asked very frequently by international visitors when I've guided them.
Generally speaking, if you visit Shizuoka during the winter months, like December or January, the chances are very good that you can see Mt. Fuji, unless the weather is rainy. On the other hand, the mountain is often covered with clouds or mist during the summer months. As for the spring or autumn, perhaps the possibility is fifty-fifty, as long as the weather is good.
Photographs: taken at the Nihondaira Ocha Kaikan,
by Koji Ikuma, with Fuji X-T1 & XF 35mm F2 R WR.
Courtesy of the NIhondaira Ocha Kaikan and Kawasaki Frontale.