Baseball is one of the popular sports in Japan. And in particular, the Tokyo Big6 University Baseball League has a long history. When we think about the origins of Japanese baseball, we realize what an important role the Big6 League played in the early 20th century.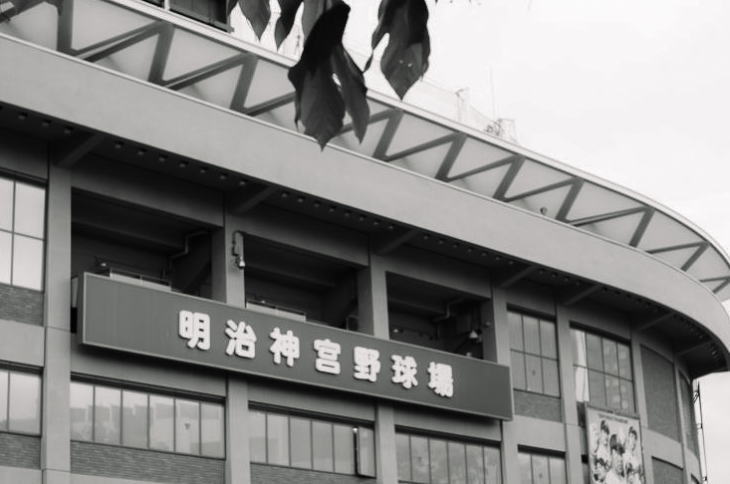 It began with the first match between Waseda University and Keio University in 1903. And the first 'tournament-style' competition was held among Waseda, Keio and Meiji in 1914. And 1926 saw the completion of Jingu Stadium in Tokyo in the Kanto Region. The stadium has been a sacred place for the Big6 League since then.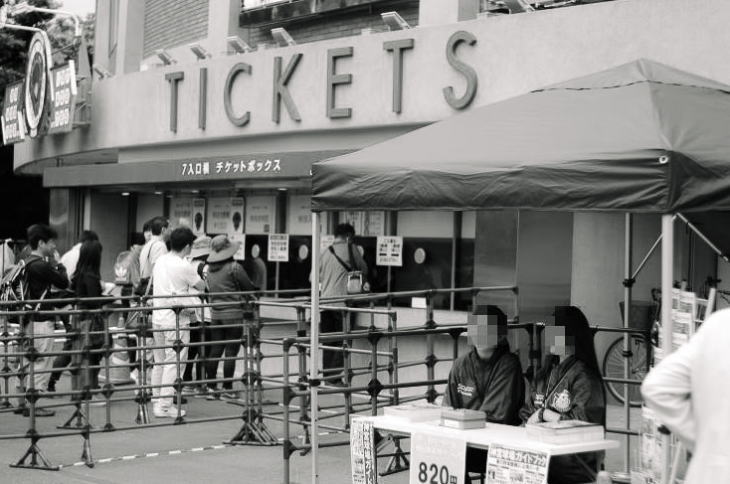 Japanese Professional Baseball
When we look at the history of Japanese professional baseball, we will notice the present-day Yomiuri Giants team formed in 1934. And the current competition style of professional teams, which we Japanese call a 'pennant race', started in 1936, with the foundation of the forerunner of the current Nippon Professional Baseball Organization (NPB).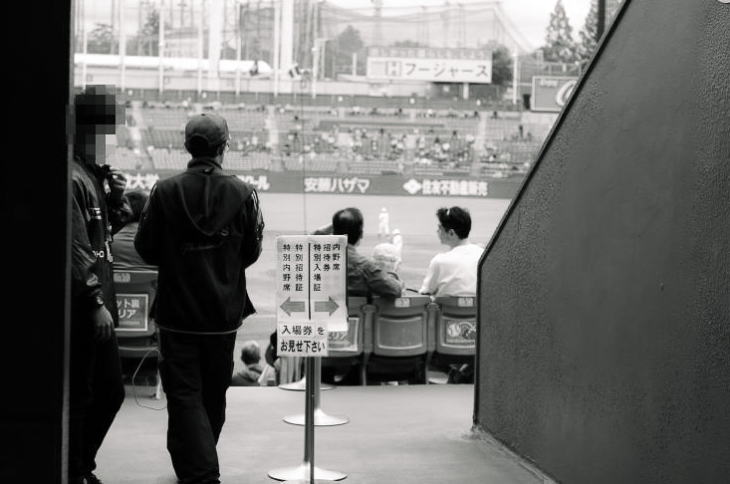 So now you understand that the Tokyo Big6 League is as old as (or even older than) the Japanese professional baseball. Maybe it's not an overstatement that Japanese baseball started with the birth of the Big6 League. The League currently competes two times a year, in the spring and fall, at Tokyo's Jingu Stadium. Although a professional baseball team, the Tokyo Yakult Swallows, plays at Jingu Stadium, for many people the stadium is more closely associated with the Big6 League. Actually the Japanese imperial family once visited Jingu Stadium to watch a game between Waseda University and Keio University in the spring of 1994.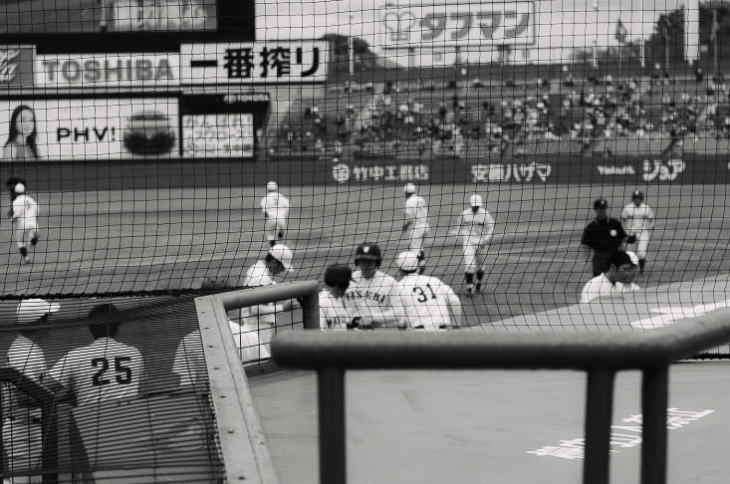 Jingu Stadium
I myself visited Jingu Stadium on a hot day in mid-May. A friend and I walked a few minutes from Gaiemmae Station to Jingu Stadium to see a game between Waseda and Rikkyo in the sixth week of the Tokyo Big6 University Baseball Spring Championship. The stadium was crowded with people and full of shops, and we paid the 1,500 yen admission fee. The number of spectators seemed large for a student competition; even at this stage of the championship, it was still unclear which one would win. Rikkyo appeared to have the strongest team, and Keio had the second best. Some people also thought Waseda would win.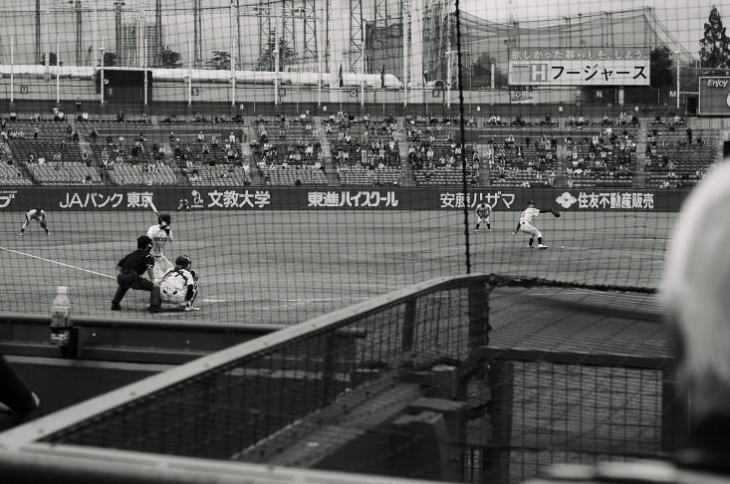 We sat down among the students of Waseda University behind the protective net behind the home plate. We noticed a familiar figure just several meters away from us. It was Takeshi Okamura, the former head coach of the Waseda baseball team. The current head coach, Hiroshi Takahashi, took over his task in January 2015. Okamura's presence added extra significance and made it a game they were not allowed to lose.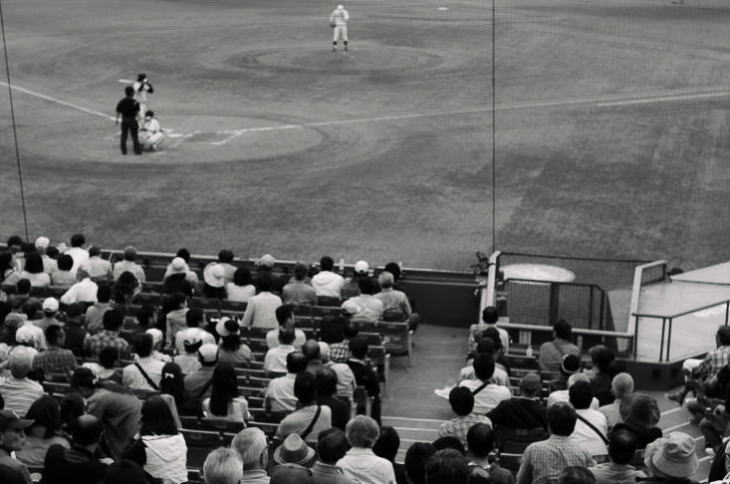 Before the Game
Before the game, we looked forward to seeing the performances of a couple of players. One was Takahiro Kumagai of Rikkyo, a right-handed hitting and throwing player and a potential pick in this year's draft. Not only is he a team leader, but also a good fielder with speed. The other player, Masaki Kato, is Waseda's cleanup batter, and he has been in such good form that he might win the triple crown. Waseda has a strong lineup, with the first three batters all hitting above .300.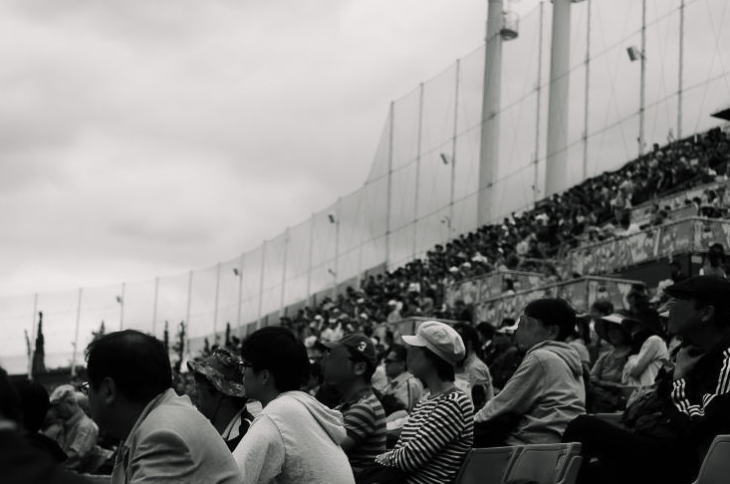 Announcement of players
When the names of the players were announced, everyone was a bit surprised because Kazuya Ojima was named as Waseda's starting pitcher. Formerly he was the ace of Urawagakuin High School when they won the national high-school competition, but he sprained his right ankle during training just before this spring championship. It was his first game since the injury.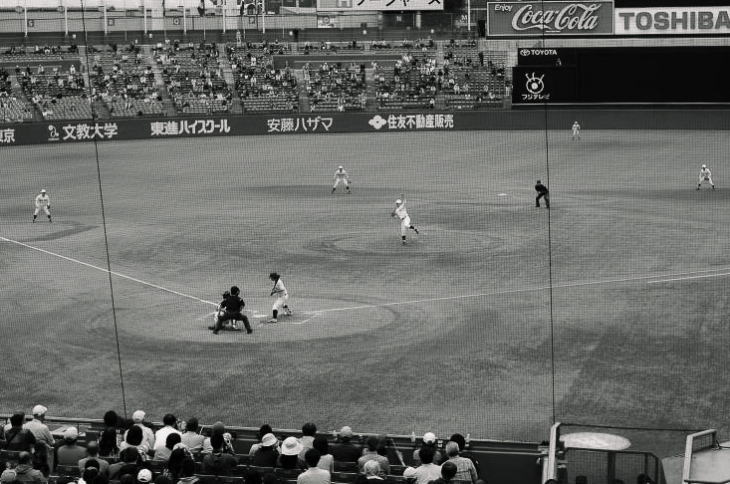 The Game Started
The game started at 11 a.m., and it became a pitching duel between Ojima and Rikkyo's Tanaka. But in the bottom of the fourth, Kato, Waseda's cleanup, hit a double to right field and advanced to third on a sacrifice bunt. Kato was cut down at the home plate after Rikkyo's catcher, Fujino, predicted Waseda's squeeze attempt and called for a high pitch. But the subsequent batters produced three consecutive hits, giving Waseda one run in this inning.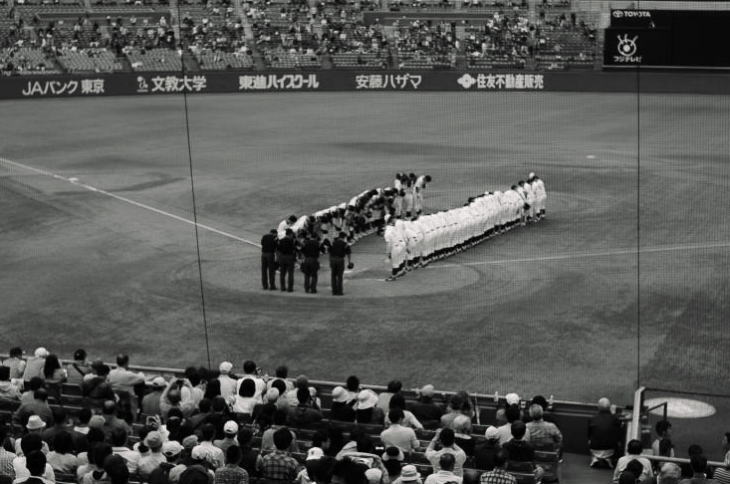 Rikkyo tried to come back in the subsequent innings but was shut out by Ojima's almost perfect pitching. Waseda won 1-0 against Rikkyo, keeping alive their hope of becoming the season champion.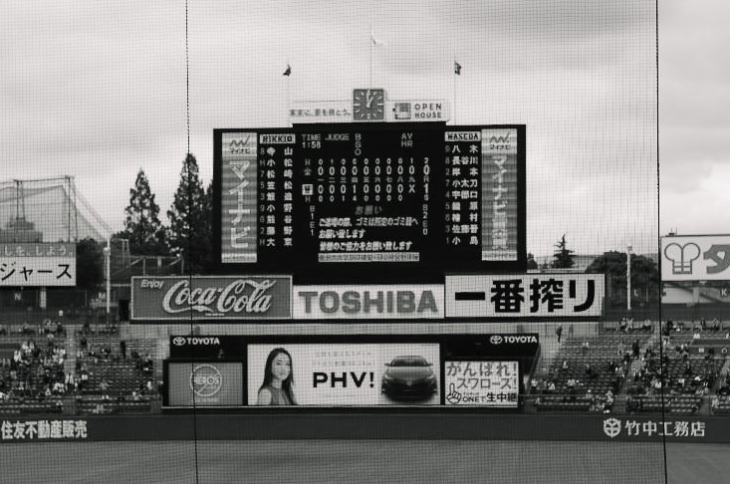 It was a tension-filled game with a lot of fine plays. So there was no doubt that the fans really enjoyed watching it. If there has been a game's MVP award, no one would have argued with giving it to Ojima, who allowed Rikkyo only two hits and one walk. His fastest ball on that day was 139 kilometers (86 miles) per hour, but he had excellent control of his curve balls.
After the Game
We were so glad to see Waseda win that each of us bought a canned beer at 500 yen and cheered together. Then, we took a train ride to the Yanaka district and visited our favorite ramen restaurant. We again ordered beer and cheered together, hoping that Waseda would take the champion . . .
---
Getting There (English Map)
You can reach Jingu Stadium in various ways. Perhaps, one of the easiest way is to use the Tokyo Metro Ginza Line. The stadium is just a five-minute walk from Gaiemmae Station of the Ginza Line. You can also use other railway lines such as the JR Chuo-Sobu Line and the Toei Oedo Line, although you need to walk a bit longer.
Other Photos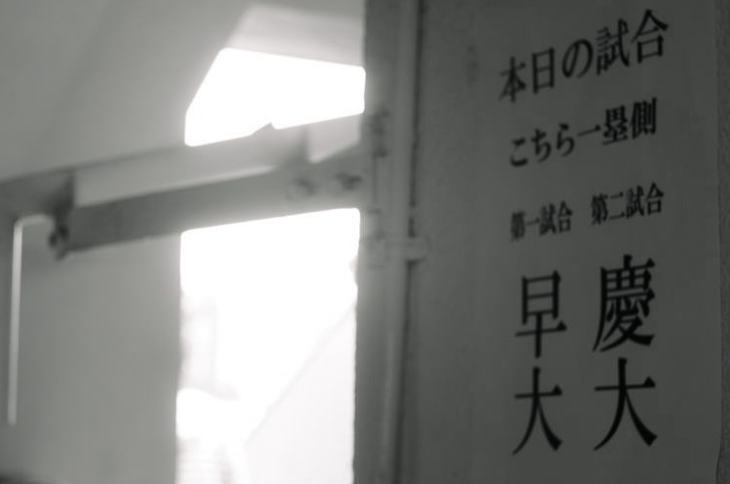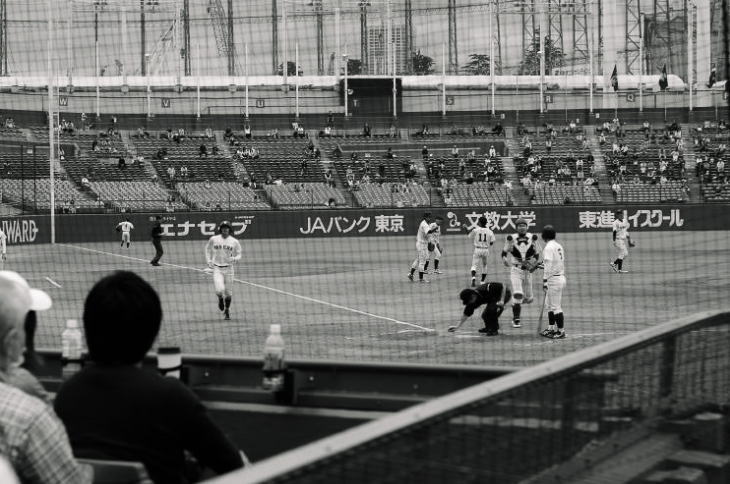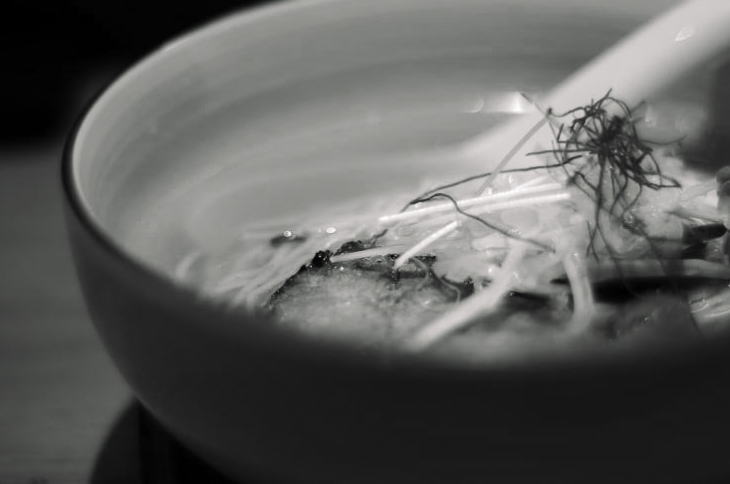 Conclusion
If you would like to watch a baseball game in Japan, or eat ramen noodle for lunch after the game, please send an e-mail from the Rates/Contact page of this site.
Photographs: taken at Jingu Stadium in Tokyo,
by Koji Ikuma, with Fujifilm X-T1
equipped with a Hexanon 50mm f1.7 lens.
---
Outbound Links